Liberia Begins Counting Ballots in Presidential Election
By
First official results expected to be released from Wednesday

Turnout among 2 million registered voters seen as high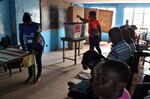 Election officials in Liberia started counting ballots after polling stations closed in presidential and parliamentary elections that regional observers said were conducted peacefully.
Liberians chose a president to replace Nobel Peace Price laureate Ellen Johnson Sirleaf from among 20 candidates who include a retired soccer star, a former warlord and a wealthy chicken farmer. Voting ended at most stations from 6 p.m. on Tuesday, with the first official results expected to be released Wednesday.
The turnout among the 2.1 million registered voters was high, John Mahama, the head of an observer mission from the Economic Community of West African States and a former president of Ghana, told reporters in the capital, Monrovia. Even though some isolated incidents of violence occurred, "voting was generally peaceful," he said.
Johnson Sirleaf, Africa's first elected female president who's governed the impoverished nation for 12 years, supported Vice President Joseph Boakai, 72, the leader of the ruling Unity Party, which is widely credited with consolidating peace in a country left in ruins by a civil war that ended in 2003.
Ebola Epidemic
The economy expanded at an average rate of 7.5 percent a year between 2006 and 2013 until the nation was hit by the worst-ever Ebola epidemic that killed thousands of people. That, combined with a sharp drop in output of iron ore, Liberia's main source of foreign currency, meant there was zero growth between 2014 and 2016.
Boakai campaigned on promises to invest in agriculture and guarantee stability.
"Liberia will not be a donor-driven country," Boakai told reporters after voting in Monrovia. "This is the time for real business."
The opposition candidates included ex-A.C. Milan soccer star George Weah, poultry farmer Benoni Urey and Prince Yormie Johnson, a former warlord turned preacher.
"There are so many people voting and that's important," Weah said after casting his vote. "The process is smooth and it's good."
The election in the West African nation, founded for freed American slaves almost 200 years ago, could see Liberia transfer power from one elected president to another for the first time in more than half a century. The vote will go to a run-off in November if no candidate wins 50 percent of the votes in the first round. As many as 986 contestants are vying for 73 seats in the House of Representatives.
Before it's here, it's on the Bloomberg Terminal.
LEARN MORE