Don't Fear the Taylor (Rule) Fed; It May Not Look Much Different
By
Taylor would face uphill battle in debate over neutral rate

Economic reality may trump push for more rule-based approach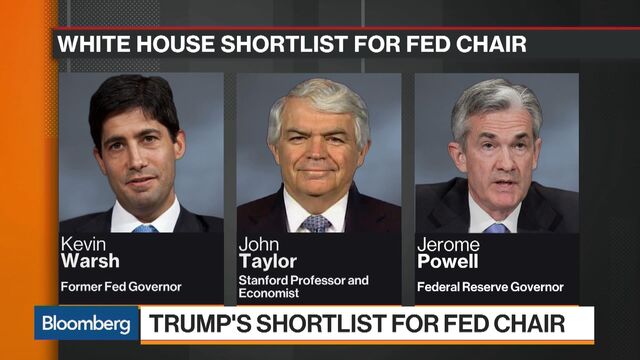 John Taylor's monetary policy rule says the Federal Reserve should have interest rates three times as high as they are at the moment. But even if President Donald Trump picks the Stanford professor as the next chairman of the U.S. central bank, they probably won't get there any time soon.
Taylor is said to be among five people under consideration to lead the Fed, a short list that includes current Chair Janet Yellen, whose term expires in February.
His rule, which calculates an appropriate interest rate based on how far the central bank is from its goals of low unemployment and 2 percent inflation, has been widely used among policy makers as a guide for setting rates since he developed it in 1992. The rule's current prescription for a Fed rate well above 3 percent -- compared to a current target range of 1 percent to 1.25 percent -- is one reason some investors view him as likely to favor a faster pace of rate increases than Yellen if he got the job.
The widening gap between rule and reality has heightened tensions between the Fed and Republican lawmakers about how much discretion it should have in the approach it takes to pursuing its congressional mandate for price stability and maximum sustainable employment.
In an October 2015 debate with New York Fed President William Dudley, Taylor said the central bank needed to "go back to a situation where you can fairly well understand the reasons for the ups and downs" in its benchmark rate.
'Are You Kidding?'
"I don't really understand what's unclear right now," Dudley said, to which Taylor responded, "Are you kidding? No one knows what you're doing."

Yellen's Fed does look at rules like Taylor's, but she and other officials have argued against mechanically following a rule to set policy, saying successful central banking requires more flexibility. That pushback follows House Republican efforts to require the Fed to adopt a rule and provide an explanation for any deviation from the rule's policy prescription.
Resistance from the other participants on the rate-setting Federal Open Market Committee, which currently numbers 16 participants, is why investors need not worry too much about Chairman Taylor leading the Fed onto a much faster rate-hike path than the three rate increases next year penciled in by officials in quarterly forecasts updated in September.
"Taylor would have a very hard time persuading the rest of the FOMC to abide by the prescriptions of his original rule," said Roberto Perli, a partner at Cornerstone Macro LLC in Washington. "In fact, he won't be able to persuade hardly anyone -- there isn't much sympathy in the FOMC for a policy that blindly follows rules."
Neutral Rate
Any Taylor effort to drive the FOMC toward a more rule-based approach would also see him wading into what has become a central debate among officials about where the so-called "neutral" interest rate, which in theory would keep inflation stable, currently lies.
Taylor's original rule pegged it at 2 percent, after subtracting inflation, while the latest projections published by the FOMC showed that the median estimate is just 0.75 percent.
"Given current inflation and unemployment, a Taylor rule today basically just tells you to put the interest rate wherever you think the neutral rate is," said Krishna Guha, vice chairman of Evercore ISI in Washington. "Nobody who believes the neutral rate is 0.75 percent real in the long run is going to be comfortable making policy based on a Taylor rule with a 2 percent real neutral rate."
Disagreement over the neutral rate belies a bigger debate among Fed officials dominating the policy outlook: Consumer price inflation has slowed this year despite a solid decline in the unemployment rate and continued steady wage growth.
Casts Doubt
That casts doubt on the reliability of the so-called Phillips curve relationship linking inflation to unemployment, which provides the basis for policy makers' outlook that inflation will eventually rise back to the Fed's 2 percent target so long as the labor market continues to tighten.
The uncertainty raises questions about whether it's really feasible for the Fed to follow a rule when officials are not even sure whether the economy still works the way they think it does, according to John Silvia, chief economist at Wells Fargo Securities in Charlotte, North Carolina.
"We've been through this in history. We had a period of time where money really seemed to dictate the path of inflation in the very short run, the monetarist era of the late 1970s, early 1980s," Silvia said. "Well, that seemed to fall apart. Greenspan gradually demoted the money supply. There is a long tradition of theories and models and rules where they seem to work for a while, and then they fall apart."
Before it's here, it's on the Bloomberg Terminal.
LEARN MORE