Madrid Keeps Pressure on as Catalans Blink on Independence
By , , and
Puigdemont gives statement in regional parliament in Barcelona

Spanish government blasts Catalan leader's 'irresponsibility'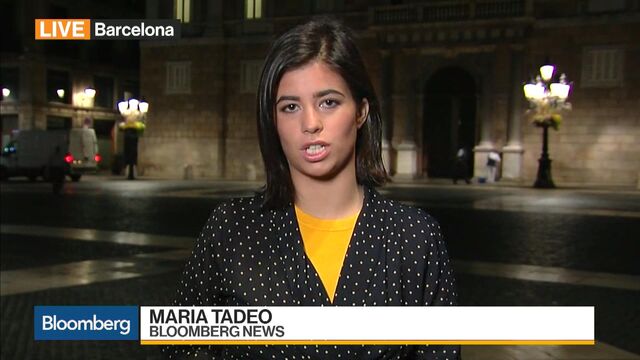 Spain maintained its hard line against Catalonia's secession campaign after the regional leader in Barcelona stopped short of the declaration of independence his allies wanted.

Following Catalan President Carles Puigdemont's announcement Tuesday that he'd seek talks with the government in Madrid over the future of his region, avoiding an irreversible step, the deputy prime minister in Madrid accused him of irresponsible and illegal leadership. Spanish stocks and bonds rallied as immediate confrontation was averted.
Addressing the regional parliament in Barcelona after days of tension in Catalonia, Puigdemont said the result of an Oct. 1 referendum had given him the mandate to pursue independence, but he would hold off for "weeks" for dialogue on the way forward with Prime Minister Mariano Rajoy's administration.
"Mr. Puigdemont has plunged Catalonia into the highest level of uncertainty," Soraya Saenz de Santamaria, Rajoy's No. 2, told reporters afterward. "Neither Mr. Puigdemont nor anyone else can draw conclusions from a law that doesn't exist, from a referendum that hasn't taken place and from the wishes of the Catalan people which they're trying to take over."

Rajoy convened an extraordinary meeting of his cabinet on Wednesday to discuss his next move, and is due to brief reporters at noon in Madrid.
His options include triggering Article 155 of the Constitution to suspend Catalonia's devolved government and assert direct control from Madrid. Cadena Ser radio reported that Rajoy's next step could be a formal warning to Puigdemont that could be a precursor to triggering suspension of the region's self-government.
Spain's Nuclear Option on Catalonia Is No Quick-Fix for Rajoy
Spain's benchmark stock rallied 1.3 percent and the yield on the government's 10-year notes fell 3 basis points to 1.65 percent at 11:46 a.m. in Madrid.
Pressure has piled on Puigdemont as the Spanish government and Catalan business leaders demanded that he desist from pitching the region further down a path to independence that they warn would wreck the economy and tear apart Spain's social fabric. Rajoy has consistently ruled out talks until the Catalans drop the threat of a declaration of independence that is illegal under Spanish law.
"Today I assume the mandate for Catalonia to become an independent state in the form of a republic," Puigdemont said to cheers from the packed assembly, with Catalan police deployed around the parliament perimeter. "We propose the suspension of the effects of the declaration of independence for a few weeks, to open a period of dialogue."
 
"I think the government will possibly now act, its patience has clearly been exhausted," Rafael Pampillon, an economics professor at the Instituto Empresa business school in Madrid, said in an telephone interview. He said Puigdemont and his supporters "are waiting and buying time" rather than retreating from independence, and Rajoy's government "will probably look now to see if they have enough grounds to try him on the charge of sedition."
Political Turmoil
After a year in which populist, anti-European Union forces failed to win power in elections in the Netherlands, France and Germany, the Catalan push to break away from Spain reintroduced the specter of political instability in Europe.

The Catalan leader's speech capped days of political and economic turmoil marked by Spanish police beating Catalan citizens as they attempted to vote in an illegal referendum, and the subsequent departure of Catalan-based companies from the region as they fled the uncertainty caused by the drive toward independence.
It came at the end of a day of tension in Barcelona, where thousands of Spanish police have been stationed ready to clamp down on the separatist government. As officers from Catalonia's own police force, the Mossos d'Esquera, secured the parliament, Puigdemont suddenly delayed his address amid reports that his own coalition partners were unhappy with the text of his speech. As Puigdemont's lawmakers greeted him following the speech, many of them struggled to look him in the eye.
Lost Chance
"Perhaps we have lost a chance," Anna Gabriel, a deputy for the CUP group in the coalition, told the regional parliament. "The only way to negotiate with the Spanish state is the Catalan Republic."
Puigdemont's electoral coalition, Junts pel Si and CUP, signed what they termed a declaration of independence after the session outside the chamber. Junts pel Si -- and not CUP -- also signed a document suspending it. The regional government's plan is to put the declaration to a vote should talks with Madrid fail.
 
The Catalan bid for independence has been rejected by the European Union, which says the region would not remain a member of the bloc outside Spain. French President Emmanuel Macron and German Chancellor Angela Merkel both backed Rajoy's stance in dealing with the separatist push. In his speech, Puigdemont called for the EU to be involved in the talks with Madrid, and sought to reassure companies fleeing the region.
"He has stepped back from the brink but I'm not sure how much it solves," said Caroline Gray, a lecturer in politics and Spanish at Aston University in the U.K. who specializes in nationalist movements. "The fundamental issue is that neither side is going to budge on sovereignty and what that means -- I still can't see how they can bridge that."
— With assistance by Maria Tadeo, Todd White, Thomas Gualtieri, and Sharon R Smyth
Before it's here, it's on the Bloomberg Terminal.
LEARN MORE