Europe Ramps Up Its Push to Protect the Iran Deal From Trump
By and
Washington-based envoys working to limit scope of decision

Iran subject to toughest monitoring 'ever negotiated': U.K.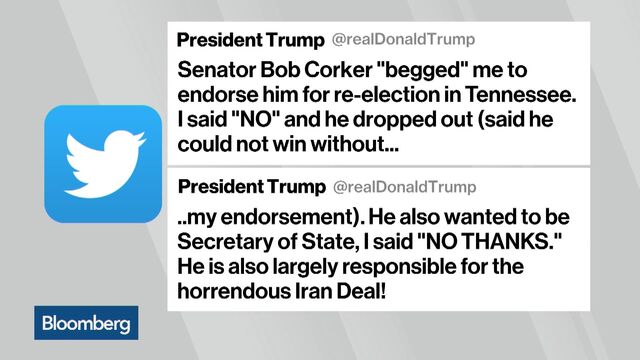 Days before Donald Trump decides whether to decertify Iran's compliance with the 2015 nuclear deal, the top voices in Washington seeking to minimize the damage from any such move are key U.S. allies.
European diplomats are ramping up efforts to ensure President Trump's decision doesn't risk scuttling the multinational accord, seeking out members of Congress and trying to influence Trump advisers. At the same time, they are signaling a willingness to discuss other areas of Iran's behavior -- including its missile program -- as long as that occurs outside the framework of the accord.
U.S. allies continue to view the nuclear deal as an achievement despite Trump's repeated criticisms of it as an "embarrassment" to the U.S. and "the worst deal ever." Under U.S. law, Trump must decide whether to certify Iran's compliance with the accord every 90 days, with the next deadline on Oct. 15. The president has indicated he's likely to say this time that Iran isn't keeping its end of the deal.
The Iran accord is a "great diplomatic success," German Foreign Minister Sigmar Gabriel told reporters Monday in Berlin. The Trump administration's assertion that Iran isn't complying with the agreement "contradicts the assessment of all member states of the European Union -- and it contradicts our assessment."
"The U.K., France, Germany, the European Union call urgently for standing by" the agreement, Gabriel added. The deal provided for the easing of international sanctions on Iran in exchange for curbs on its nuclear program.
Senator Dick Durbin called a meeting last week where U.S. ambassadors from Germany, France and the U.K. made their pitch for preserving the Iran accord to more than two dozen Democratic senators, according to Ben Marter, a spokesman for Durbin of Illinois, the Senate's No. 2 Democrat.
Read a QuickTake Q&A on how Trump can oppose the Iran deal but not leave it
The United Kingdom's embassy in Washington posted a statement and video to its Twitter page last week, saying. "The Iran nuclear deal is working." It cited a comparison of Iran's nuclear program before and after the agreement, saying that two-thirds of Iran's centrifuges for enriching uranium were gone and 95 percent of its uranium stockpile was shipped out of the country.
Iran "is subject to 25 years of the most rigorous monitoring mechanism ever negotiated," according to the statement. Those comments were echoed Monday by Yukiya Amano, the director general of the International Atomic Energy Agency, which inspects Iranian nuclear sites, who said "the nuclear-related commitments undertaken by Iran" are being implemented and the country's nuclear program "is smaller than it was before the agreement came into force."
That's not a view Trump shares. The president campaigned on promises to shred the agreement, although the practicality of doing so -- the U.S. is one of seven countries that negotiated it -- have made that tougher. Administration officials including Secretary of State Rex Tillerson have argued that a key shortcoming of the accord is that it doesn't encompass issues such as Iran's continuing ballistic missile program and its involvement in conflicts across the Middle East.
Reimpose Sanctions
The certification requirement with Congress was originally designed to allow U.S. lawmakers to "snap back" economic sanctions on the Islamic Republic that the Obama-era agreement lifted. But a key opponent of the nuclear deal -- Republican Senator Tom Cotton -- last week signaled he wouldn't immediately seek to reimpose sanctions.
Rather, Cotton said, Trump's decision to decertify Iranian compliance, combined with a list of demands for a tougher deal by Congress, would give the administration leverage in dealing with European allies reluctant to rein in Iran further.
"The world needs to know we are serious, we are willing to walk away, we are willing to impose sanctions and a lot more than that," Cotton, who met with Trump last week, said Oct. 3. "And they'll know that when the president declines to certify the deal, and not before."
Gabriel suggested European allies would be willing to take on Iran's behavior outside the nuclear deal.
'Justifiably' Critical
"The U.S. president is critical -- and justifiably so -- of Iran's behavior in the Middle East, from Yemen to Lebanon," the German foreign minister said. "No question. We will do everything to make clear to members of the Senate as well as the White House that we're ready, on the one hand, along with the U.S., to engage with Iran on the difficult subject of the Middle East and to increase pressure on Iran through diplomatic means."
But Gabriel also signaled European concern that breaching the nuclear deal with Iran would only make it harder for the U.S. and its allies to persuade North Korea to enter negotiations over its weapons program. Trump, however, has repeatedly said he doesn't think there should be direct talks with the regime in Pyongyang.
"Our country has been unsuccessfully dealing with North Korea for 25 years, giving billions of dollars & getting nothing," Trump tweeted on Monday. "Policy didn't work."
— With assistance by Jonathan Tirone, and Kambiz Foroohar
Before it's here, it's on the Bloomberg Terminal.
LEARN MORE