GE's Flannery Signals Sweeping Makeover to Reverse Stock Drop
By
Company names Trian's Garden to board amid management overhaul

Dividend cut to free up cash is a possibility, analysts say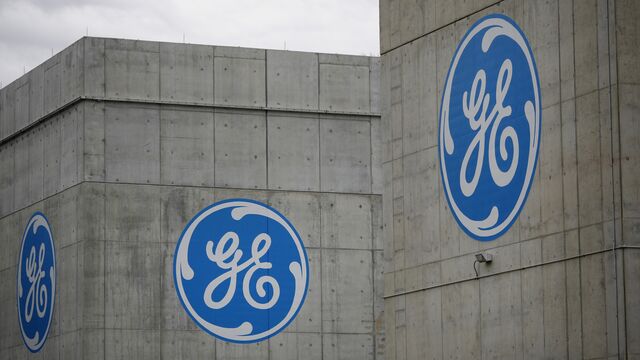 General Electric Co.'s new boss has barely uttered a word in public during his first two months on the job. But Chief Executive Officer John Flannery is already signaling his intention to forge one of the most sweeping makeovers in the company's 125-year history.
The beleaguered manufacturer added an activist shareholder to the board Monday, three days after announcing the exit of a trio of senior executives. Flannery is weighing changes to a portfolio that includes jet engines, locomotives and gas turbines. He also is cutting corporate jets and cars as part of a plan to trim $2 billion in costs by the end of 2018.
With shares declining in an eighth straight month -- the longest such longest streak in decades -- the new CEO is under pressure to deliver results fast. The earnings outlook is at risk as GE contends with weak cash flows and sluggish demand in the power-generation and oil markets. Vertical Research Partners and JPMorgan Chase & Co. suspect Flannery may even consider paring the dividend -- the same drastic step taken during the 2009 financial crisis and before that in 1938.
"Flannery and GE as a whole are effecting a 'clean break' from the past," Andrew Kaplowitz, an analyst at Citigroup Inc., said in a note to clients. "We surmise that accountability and a sense of urgency are at the forefront of these changes."

The shares dropped 4 percent to $23.42 at 3:08 p.m. in New York. The tumble erased a gain for October and put GE on track for its eighth straight monthly decline, the longest streak without a gain since early 1978.
"If earnings and cash flow are going even lower than we thought, the dividend clearly should be cut,'' analyst Jeff Sprague of Vertical Research said in an Oct. 6 note. "GE could end up in better place once the dust settles but investors should steer clear until we learn more. That better place could be with a starting point much lower for the stock price.''
Amid "uncertainty here and challenged fundamentals,'' the likelihood of a dividend cut "moves materially higher,'' Steve Tusa, an analyst at JPMorgan Chase, said in a report.
Trian Influence
Flannery accepted a board appointment for Ed Garden, a founding partner of activist shareholder Trian Fund Management, which has been pressuring GE for an overhaul. Garden, who works closely with Trian's Nelson Peltz, will replace Robert Lane on the board, GE said in a statement Monday. The Boston-based maker of jet engines, gas turbines and ultrasound machines maintains "active and constructive dialogue" with Trian, according to the statement.
"Like other GE shareholders, I am disappointed by the recent performance of GE's stock," Garden said in the statement. "But I continue to believe that GE represents an attractive long-term investment opportunity with significant upside."

Flannery has been meeting with investors and has said he will consider all options to turn the company around. He's set to outline his plans in a presentation Nov. 13.
Read more: Why a shakeup is needed soon -- a Gadfly on GE's changes
The face of GE shifted dramatically last week as several of the company's most well-known executives, including Chief Financial Officer Jeff Bornstein, stepped down. Vice Chairs Beth Comstock, GE's top female executive and a leading figure in its embrace of Silicon Valley, and John Rice, the primary international officer, also said they would retire from GE. The departures, announced late on Oct. 6, came shortly after Jeffrey Immelt stepped down as chairman earlier than planned.
Jamie Miller, who heads GE Transportation, was appointed CFO.
Passed Over
Bornstein's resignation comes after he was passed over to succeed Immelt. When Flannery's appointment was announced, Bornstein, 51, was promoted to vice chair and the company said he would work closely with the new boss.
The departing CFO was regarded among investors and analysts as a knowledgeable and plain-spoken partner to Immelt's big-vision CEO. Bornstein, who joined GE in 1989 and held a number of finance-oriented roles, was considered a major driver of GE's plan to shed about $200 billion of lending businesses and refocus on industrial manufacturing.

But Bornstein's star faded in recent months as he shouldered some of the blame for GE's cash-flow issues. The executive changes "serve to build expectations that game-changing strategic moves will be unveiled'' at the Nov. 13 meeting, Deane Dray, an analyst with RBC Capital Markets, said in a note to clients.
Analysts expect profit this year of $1.54 a share, according to the average of estimates compiled by Bloomberg, less than GE's forecast of at least $1.60. While GE has discussed earnings of $2 a share in 2018, analysts are predicting $1.67 on average.
A dividend cut may be necessary since the existing payout "consumes all or most'' of GE's industrial free cash flow for the foreseeable future, Sprague said. GE has said maintaining the payout is a top priority and has declined to comment on the possibility of a dividend cut.
The company cut its dividend in 2009 during the financial crisis, the first such move for GE since the Great Depression. The company pays an annual dividend of 96 cents, for a yield of 3.9 percent.
— With assistance by David Carey, and Joshua Fineman
Before it's here, it's on the Bloomberg Terminal.
LEARN MORE