Deutsche Bank Has a Plan to Ease Fund Managers' MiFID II Start
By and
Banks plan systematic internalizers for fixed-income trading

Platforms will be ready for Jan. 3 start of MiFID II rules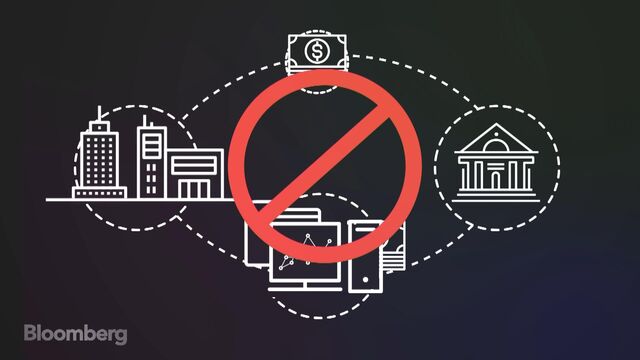 Deutsche Bank AG and UBS Group AG each have plans to win trading business by trying to ease clients' transition to the European Union's sweeping new MiFID II law.
The German and Swiss lenders will launch a new type of fixed-income trading platform for MiFID's Jan. 3 start date, ahead of a requirement that will become mandatory for most big banks in September. On the new venues, the banks will assume responsibility for collecting and reporting transaction data for customers, freeing them from some of the more than $1.1 billion in MiFID II's estimated compliance costs for money managers.
The banks will set themselves up as systematic internalizers, or SIs, for bonds and derivatives, key parts of the lenders' fixed income and currencies business. Deutsche Bank was the first bank to confirm that it will adopt the European SI regulatory status for fixed income, a move that could help it lock in business as the new law takes hold. UBS followed suit later on Monday.
"By registering early as a systematic internalizer, we will be in a position to help clients by taking on post-trade reporting duties as soon as the obligations come into force," Mario Muth, head of fixed-income electronic sales and head of fixed-income market structure at Deutsche Bank, said in a statement. "For clients, this removes one of the challenges to comply with the new regulation and creates certainty when trading with Deutsche Bank."
UBS decided last week to notify the U.K.'s Financial Conduct Authority that it too will trade bonds as an SI from Jan. 3, Paolo Croce, the bank's European head of fixed income, said in an interview. It will also trade currencies and commodities that fall under the MiFID rules through the SI.
Deutsche Bank tied with Citigroup Inc. to rank second in fixed income, currencies and commodities trading in Europe, the Middle East and Africa, according to Coalition Development Ltd. data from the first half of 2017. Deutsche Bank's fixed income and currencies unit has declined recently but still generates about a third of corporate and investment-banking revenue.
JPMorgan Chase & Co. is ranked first in Coalition's league table, which is measured by revenue. UBS has a smaller fixed-income business, according to the data.
Deutsche Bank and UBS also intend to operate SIs for trading in equities. In equity markets, they will be in competition with venues run by JPMorgan, Virtu Financial Inc. and Sun Trading International.

The SI platforms are a closely watched element of the EU's revised Markets in Financial Instruments Directive. Enacted in response to the 2008 financial crisis, the law seeks to increase investor protection and transparency in markets for stocks, bonds, derivatives and commodities.
In contrast to traditional exchanges or other venues that match multiple client orders, SI venues are designed to fill clients' buy or sell orders directly. Banks can use their own capital to search the market or build inventories of securities to meet customers' demands.
During the past year, exchanges, some high-speed traders and EU lawmakers have warned that SIs threaten to undermine the law's mission in equity markets, potentially leading to more dark trading. For bonds and derivatives, however, the platforms have proved less contentious, so far.
— With assistance by Steven Arons
Before it's here, it's on the Bloomberg Terminal.
LEARN MORE