Congo Opposition Leader Katumbi Will Return to Congo in December
By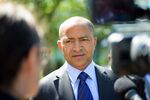 Democratic Republic of Congo opposition leader and presidential hopeful Moise Katumbi said he will return to his homeland in December after more than a year abroad to participate in the country's delayed elections.
The 52-year-old former governor of Congo's copper-rich Katanga province plans to challenge President Joseph Kabila's rule of the Central African country on his return, he said at a conference Monday in London. Katumbi has previously pledged to return to the country and then failed to make the trip, while one attempt to travel was thwarted when the Congolese authorities refused to clear a plane carrying him.
"The only man Kabila is scared about in the country is me," Katumbi said. "Congo is losing every day, every minute, every second Mr. Kabila is in office. His mandate is finished."
Kabila, who's ruled since 2001, was supposed to step down at the end of his constitutionally limited second term in December 2016, but the vote for his replacement has been delayed, sparking protests in which dozens of people have died. Under a political agreement struck Dec. 31, opposition parties accepted that he could remain in office if the vote was held this year. Congo, Africa's largest copper producer, has never had a peaceful transfer of power.
"If I win the election, I need to change that country, to invite all of the investors to come and help us to build our country," Katumbi said. "It is the private sector that is going to make Congo strong."
Before it's here, it's on the Bloomberg Terminal.
LEARN MORE