U.S. Stocks Hit New Highs, Spanish Equities Drop: Markets Wrap
By and
Euro gains as Catalan president seeks to suspend referendum

Turkey's lira falls in late trading amid renewed U.S. tension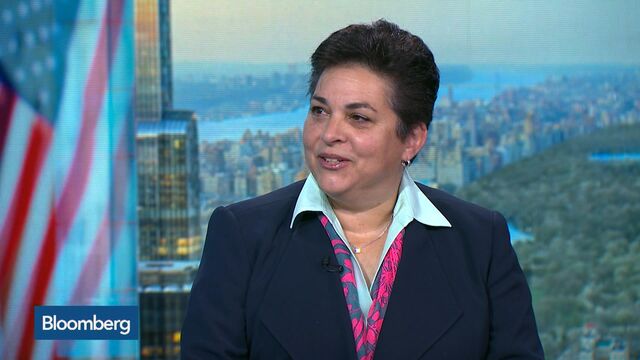 U.S. stocks climbed to record highs as Wal-Mart Stores Inc. led a rally in consumer shares, and energy producers climbed along with oil prices. The euro strengthened after Catalonia's president stepped back from declaring immediate independence from Spain.
Turkey's lira lost a gain of as much as 1.1 percent amid reports the White House backs its ambassador's decision to suspend visas and news that the country convicted in absentia a U.S. reporter on charges of "terrorist propaganda." The currency tumbled Monday as the diplomatic row with America flared up.
The dollar had weakened against most major currencies as President Donald Trump's feud with Senator Bob Corker clouded the outlook for his much-heralded tax reform. Traders are also waiting for minutes from the Federal Reserve's last meeting, which may provide more details on the path of interest rates and balance sheet tapering. The S&P 500 Index, Dow Jones Industrial Average and Nasdaq Composite Index all set record highs.
"The economy is kind of just chugging along here," said Brian Frank, portfolio manager at Key Biscayne, Florida-based Frank Capital Partners LLC. "It seems like investors just aren't able to put their finger on any risk in front of them."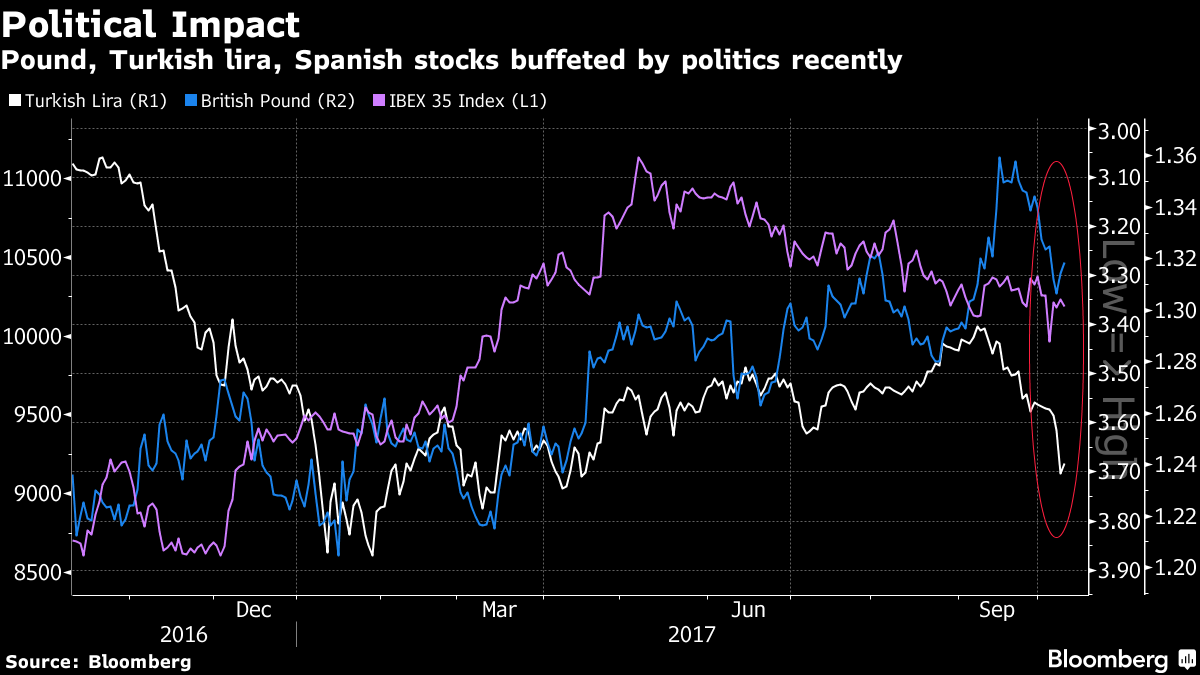 Catalan President Carles Puigdemont, addressing the regional parliament in Barcelona, said while an Oct. 1 referendum had given him the mandate to pursue independence, he would "suspend" the result for a period of some weeks for dialogue with Prime Minister Mariano Rajoy's administration. He suggested that the European Union should be involved in the talks, and sought to reassure companies fleeing the region. The IBEX fell before he spoke. The region's common currency gained for a third day.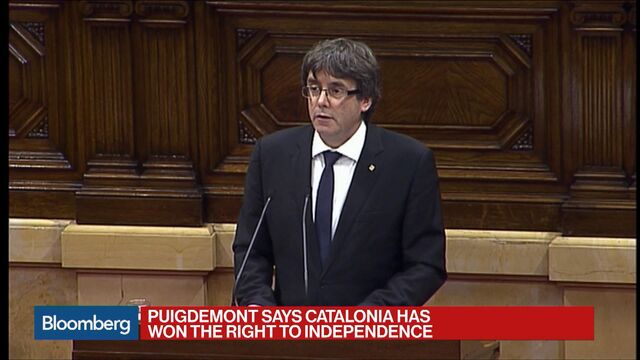 In the U.K., sterling continued to recover from last week's drop after U.K. Prime Minister Theresa May won public support from Brexit hardliners in her cabinet for outlining contingency plans for leaving the European Union without a deal. The pound was also boosted by a fourth straight month of gains in U.K. like-for-like retail sales, and manufacturing and construction data that beat forecasts.
The Wall Street Journal said reporter Ayla Albayrak was sentenced to two years and one month in prison. Albayrak, who is currently in New York, was convicted of engaging in "terrorist propaganda" in support of a banned Kurdish separatist organization through one of her articles.
Gold gained as the greenback weakened, and West Texas oil rose above $50 a barrel before U.S. government data forecast to show crude inventories extended declines for a third week. Japan's Topix index closed at the highest since July 2007 and Korean stocks staged a catch-up rally after a week-long holiday. 
Terminal subscribers can read more in our Markets Live blog.
What's coming up this week:
Minutes from the most recent Federal Reserve meeting are due Wednesday.
API and EIA crude data are delayed to Wednesday and Thursday, respectively, because of Monday's U.S. holiday.
The International Monetary Fund and World Bank hold their annual fall meetings this week.
Earnings season begins for major U.S. banks, led by JPMorgan Chase & Co., Citigroup Inc., Bank of America Corp. and Wells Fargo & Co. Also reporting will be BlackRock Inc., Domino's Pizza Inc., Samsung Electronics Co., German container company Gerresheimer AG, U.K. grocery wholesaler Booker Group Plc, and Sky Plc.
The active Atlantic hurricane season will probably figure prominently in U.S. data on retail sales and consumer prices.
Here are the main moves in markets:

Stocks
The S&P 500 Index rose 0.2 percent to close at 2,550.66 at 4:02 p.m. in New York, after climbing to a record 2,555.23. The Dow Jones Industrial Average gained 0.3 percent, and touch a high of 22,850.51. The Nasdaq reached a record 6,608.301, and finished the day up 0.1 percent.
The Stoxx Europe 600 Index was little changed.
The MSCI All-Country World Index rose 0.4 percent.
Spain's IBEX Index fell 0.9 percent.
The MSCI Emerging Market Index rose 1 percent.
Currencies
The Bloomberg Dollar Spot Index fell 0.3 percent.
The euro climbed 0.7 percent to $1.1816.
The Turkish lira dropped 0.1 percent.

Bonds
Spain's 10-year yield rose two basis points to 1.70 percent.
Germany's 10-year yield was little changed at 0.44 percent.
Britain's 10-year yield climbed about one basis points to 1.36 percent.

Commodities
West Texas Intermediate crude rose $1.36 to $50.94 a barrel.
Gold futures added 0.4 percent to $1,288.45 an ounce.
Copper climbed 1 percent to $3.06 a pound.
Before it's here, it's on the Bloomberg Terminal.
LEARN MORE