Trump Demands Wall Funds for DACA, Draws Democrats' Rebuke
By and
Top Democrats say president is reneging on deal for 'Dreamers'

White House says 'chain migration' also must be ended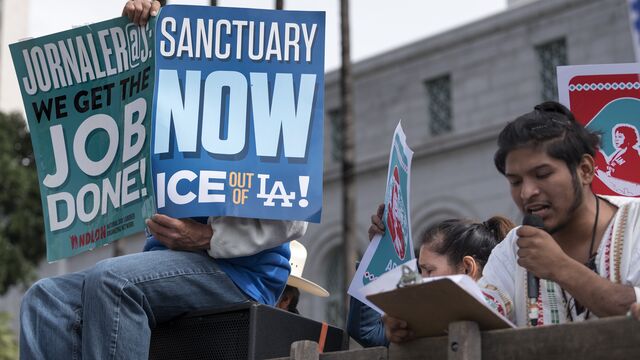 President Donald Trump demanded that Congress deliver funding for his border wall and make dramatic changes to immigration policy in exchange for letting young people brought illegally to the U.S. as children stay in the country.
The administration's proposal, outlined in a briefing by U.S. officials and sent to lawmakers on Sunday night, was swiftly rejected by top Democrats in Congress, who charged that the president had reneged on an agreement last month to allow about 800,000 so-called Dreamers to remain in the U.S.
Trump's plan calls for fully funding his proposed wall on the U.S.-Mexico border, money to hire thousands of additional immigration agents and revamping the asylum system. Its principles are meant as the framework for a legislative reworking of the Deferred Action for Childhood Arrivals program that Trump terminated in September with a six-month sunset to allow for congressional action.
"These findings outline reforms that must be included as part of any legislation addressing the status of Deferred Action for Childhood Arrivals (DACA) recipients," Trump said in a letter to congressional leaders. "Without these reforms, illegal immigration and chain migration, which severely and unfairly burden American workers and taxpayers, will continue without end."
Administration officials who briefed reporters Sunday night described Trump's principles -- including an end to so-called chain migration, in which permanent residents and citizens can sponsor relatives for entry to the U.S. -- as neither a veto threat against a DACA bill lacking the provisions nor an opening bid.

The move threatens to blow up prospects for a bipartisan deal on immigration at a time when any policy change would require 60 votes in the Senate, where Republicans hold just 52 seats.
Senate Minority Leader Chuck Schumer of New York and House Minority Leader Nancy Pelosi of California dined with Trump last month and said afterward they had reached a tentative accord with the president to advance legislation to replace DACA and protect from deportation undocumented immigrants brought to the U.S. as children. That deal, both leaders said, would combine those protections with a boost in border security resources, but not for a border wall.
On Sunday, the Democrats responded swiftly to Trump's proposal.
"We told the president at our meeting that we were open to reasonable border security measures alongside the DREAM Act, but this list goes so far beyond what is reasonable," Schumer and Pelosi said in a statement. "This proposal fails to represent any attempt at compromise."
Broadening the scope of that deal will expose a sharp divide within Republican ranks over the fate of the young immigrants and the best approach to tighten immigration enforcement. The leader of the conservative House Freedom Caucus said Monday he looks forward to changes that will "restore law and order."
"Members of the House Freedom Caucus continue to work with the administration and other congressional Republicans on potential fixes to the unconstitutional Obama-era DACA program," said Representative Mark Meadows, a North Carolina Republican who is chairman of the caucus. "We look forward to the administration's insistence on these principles in any deal that is signed into law."
One of the administration officials who briefed reporters on condition of anonymity said that Congress should include all of the administration's proposed provisions in legislation that codifies DACA, but declined to say if Trump would accept a bill that includes only some. The official declined to say which proposals were most critical, only asserting that the various policies worked in tandem.
Trump's Review
White House Legislative Director Marc Short said a review of U.S. immigration laws ordered by Trump identified shortcomings in three major areas: the ability to promptly remove undocumented immigrants at the border; the enforcement of immigration standards inside the U.S., including visa overstays; and ending chain migration, which he described as unfair to taxpayers and citizens.
"The agencies' bottom-up review identified several legislative priorities to fix these problems and modernize our immigration system," Short said. "That includes fully funding and completing construction of the border wall and closing legal loopholes that prevent removals and swell the court backlog."
The review was carried out by agencies including the departments of Justice, State and Homeland Security, Short said.
Tom Homan, acting director of the Immigration and Customs Enforcement agency, said illegal immigration won't be stopped "unless we prevent the 'pull factors' that drive it." Without punishment for those entering the country illegally, "there is no integrity in the system," he said.
Another "pull factor," Homan said, is an exemption from prompt deportation under current law for undocumented minors who arrive in the U.S. unaccompanied by their parents or guardians. The Trump administration wants that exemption ended so that such children can be rapidly returned to their home countries, he said.
"For years, this country, including Capitol Hill and the swamp, they've always asked, 'What more can we do for the illegal immigrant? What's fair to the illegal immigrant?'" Trump aide Kellyanne Conway said on Fox News on Monday. "This president is asking, 'What's fair to America? What's fair to the American worker?'"
Immigration Restriction
The White House also outlined policies that would dramatically change the legal immigration system, including by reducing the number of people allowed to settle in the U.S. each year. That's expected to be part of the conversation with members of Congress, the officials said.
Trump met last week with a small group of conservative Republican lawmakers to discuss DACA legislation.
Some participants in the meeting, including Senator David Perdue of Georgia, said Trump was willing to alter the agreement with Pelosi and Schumer by including changes to the legal immigration system. Perdue and Tom Cotton of Arkansas, who also participated in the White House meeting, have written legislation to revamp U.S. immigration priorities and create what they call a "merit-based" system that would move away from chain migration and cut legal immigration in half over a decade.
The bill has attracted no other cosponsors, and its principles are opposed not only by Democrats but also many Republicans. But the two senators have sympathizers among Trump's aides, and possibly in the president himself, for whom immigration was a major campaign issue.
Separately, Senate Judiciary Committee Chairman Charles Grassley last week said he's demanding that any deal include a mandatory E-Verify system for employers to check the immigration status of job applicants.
Before it's here, it's on the Bloomberg Terminal.
LEARN MORE