Spain Warns Catalans Independence Bid Risks Economy Meltdown
By , , and
Deputy prime minister says Spain is ready to intervene

Parliament in Barcelona to discuss independence vote Tuesday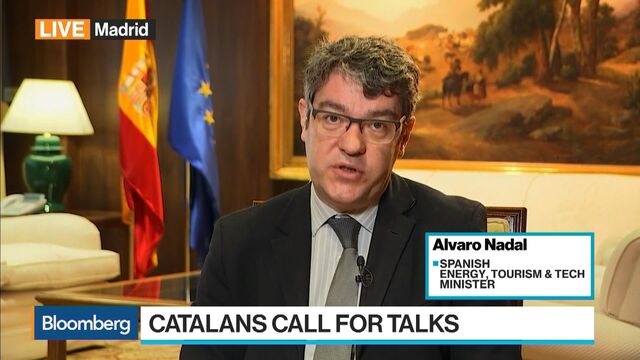 Spain's government said it stood ready to intervene and reassert control over Catalonia, warning that the rebel region risks economic chaos if it presses ahead with its bid for independence.
As the standoff enters a critical few days, Deputy Prime Minister Soraya Saenz de Santamaría said ministers were prepared to stop Catalan President Carles Puigdemont. Spanish Energy Minister Alvaro Nadal said the push to break away is doing more damage to the Catalan economy than August's terrorist attacks as companies decamp.

"If this man unilaterally declares independence, measures will have to be taken and the government will take measures," Sáenz told Spanish radio. She said action would be taken even if the government doesn't win cross-party backing. "We will seek support, but the act will not be left without a response from the government."
After a weekend of mass demonstrations in favor of Spanish unity, the country was braced for escalation of a crisis that threatens the breakup of a European sovereign state. With the risk of turmoil rippling beyond Spain, German Chancellor Angela Merkel spoke with Prime Minister Mariano Rajoy, reaffirming her support for Spanish unity and discussing ways to strengthen dialogue between Madrid and Barcelona.
Puigdemont has vowed to press ahead with his independence drive and is due to address the regional Parliament Tuesday. Rajoy, who will address the Spanish parliament on Wednesday, pledged that "national unity will be maintained" by using all instruments available to him. That includes suspending the regional administration and sending in security forces.
"The risk of this getting a lot worse, with correspondingly bad market development for Spanish assets, is still too great for my risk appetite," said Erik Nielsen, chief economist at UniCredit SpA. He predicted at least another week of pressure on Spanish and Catalan debt and assets before "things will eventually normalize."
Economic Fallout
Spanish government debt rose on speculation both sides will step back from the brink, with the yield on 10-year bonds dropping 4 basis points to 1.66 percent at 3:28 p.m. in Madrid. Spain's benchmark stock index was up 0.7 percent.
The Ibex has still lost about 1.2 percent since Catalans voted in defiance of the Constitutional Court on Oct. 1. Catalan companies including lender CaixaBank SA are meanwhile moving their legal bases out of the region. A delegation from Cercle d'Economia, a business forum, met with Puigdemont on Saturday to demand he withdraw his threat to declare a Catalan republic.
Catalan Overture
Raul Romeva, foreign affairs chief for the separatist government in Barcelona, called for dialogue with Spain, saying that all of Europe faces economic damage unless a resolution is found. He insisted the door was open for talks if Rajoy was willing to engage.
"We need two to tango, we need the other side to be at the table," Romeva said in an interview in Barcelona on Sunday. "We're always going to be at the negotiation table, but to start negotiations we need the other party to negotiate with."
The leaders of the Catalan National Assembly, a civic group that led a series of massive pro-independence demonstrations and works closely with Puigdemont, vowed in a video posted on Twitter that Tuesday's session will see the president declare independence. Marta Pascal, who heads Puigdemont's party, told the BBC there will be a symbolic recognition of the result of the illegal referendum, but no unilateral declaration of a new state.
Nadal, the energy minister, suggested Catalonia would be jeopardizing electricity supplies and communications networks. Catalonia has little control over energy supplies and is reliant on the big Spanish companies that, in theory, could suspend service and turn the lights off.
"It's so terrible a scenario the idea of independence, that everything won't work from the single moment from which independence is declared," Nadal said in a Bloomberg Television interview. "There will be a problem in the energy sector, there will be a problem in the telecom sector, in the financial sector of course."
Viva Espana
Pressure is mounting for a resolution to the constitutional crisis rooted in grievances the Catalans trace back centuries. That sense of enmity was fueled by Spanish police beating Catalans as they tried to vote, images that prompted the EU Commissioner for human rights to write to Spain's interior minister urging "swift, independent and effective investigations."
After last weekend's focus on Catalans as victims, this Sunday saw demonstrations in Barcelona involving some 350,000 people protesting against independence and in favor of a united Spain, shouting "Viva Espana!" and "I am Catalan and Spanish."
— With assistance by Charles Penty, Sharon R Smyth, and Francine Lacqua
Before it's here, it's on the Bloomberg Terminal.
LEARN MORE