White House Wants a Fed Chief Willing to Revisit Financial Rules
By , , and
Trump team outlines attributes of contenders for Fed vacancies

Various skills sought, from banking to payment system know-how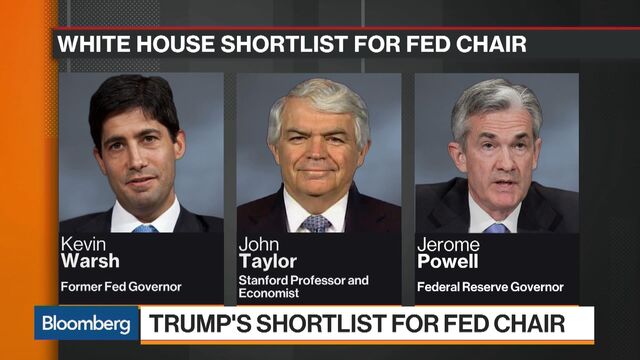 The White House team leading the search for the next generation of Federal Reserve leaders is seeking contenders willing to roll back financial regulations, but also with experience in monetary policy and the consensus-building skills to run a large organization, according to three officials familiar with the process. 
President Donald Trump is working with a shortlist of five names for Fed chair: former Fed Governor Kevin Warsh, Stanford University economist John Taylor, current Fed Governor Jerome Powell, National Economic Council Director Gary Cohn and the current chair, Janet Yellen.

The administration officials for the first time offered the White House's vetting criteria for Fed chief and governor positions. They spoke on condition of anonymity because Trump hasn't yet made a decision.
The officials said the White House is focused on assembling a Fed team with varied expertise, ranging from monetary policy to familiarity with large and small banks and payment systems. Experience with public policy and politics is sought as well, they said.
In his first term, Trump may nominate as many as five governors to the Fed's seven-person board -- decisions whose consequences may outlast his presidency. Governors are appointed to terms as long as 14 years, while the next Fed chair will serve until at least 2022 and could be reappointed.
Despite the five-name shortlist for chair, the decision is ultimately Trump's, the officials cautioned. Trump has spoken favorably of Yellen, a Democrat whose candidacy for renomination is resisted by many administration officials.

The Senate confirmed Trump nominee Randal Quarles as a Fed governor and vice chair of supervision this week.
Five Candidates
Among the shortlist, Powell and Yellen would be continuity choices, in-line with conventional expectations for a Fed chair. Warsh has positioned himself as the candidate most interested in Fed reform, having previously served as a governor. He has experience in monetary policy, crisis management and investment banking.
Cohn would bring familiarity with Wall Street and banking, but no experience in central banking or monetary policy. Taylor is a well-known monetary policy expert who has served in Republican administrations and has support from some GOP lawmakers.
The White House job description for Fed chair doesn't specify how monetary policy should be directed, an acknowledgment of the institution's independence. They are looking for a leader who can build a consensus from diverse views and make sound policy calls for the economy, whether it is booming or slowing.
Administration officials also understand that the Fed faces big challenges because its traditional tool -- moving the short-term interest rate -- may eventually hit zero again, and they want competent monetary experts who can think about and manage these issues.
Avoiding Recession
The focus on competence rather than ideology shows that at the staff level, the White House understands that the Fed pick directly affects one of the strongest signals of confidence in the Trump administration: the U.S. economy.

U.S. central bankers are presiding over the third-longest economic expansion in U.S. history, fueled in part by Yellen's caution in reversing the Fed's crisis-era interventions. Under her tenure, the Federal Open Market Committee has raised rates just four times since December 2015. At issue for the next Fed chair, if Yellen isn't renominated, is ensuring the long expansion doesn't give way to a recession.
Stock markets are touching record highs, as Trump himself frequently observes. Interest and inflation rates are both meanwhile unusually low for this stage in an economic cycle. The jobless rate for September was 4.2 percent, the lowest since February 2001, the Labor Department reported Friday.
One attribute administration officials particularly seek is an inclination toward less financial regulation. In a 220-page report issued Friday, the Treasury Department laid out a series of recommendations to streamline regulations affecting the largest banks, hedge funds and exchanges.
Deregulation Push
Rather than making specific demands, the document is intended to be a road map for regulators. Yellen said in August that she supports many of the regulations strengthened after the 2008 crisis at a speech in Jackson Hole, Wyoming.

"The balance of research suggests that the core reforms we have put in place have substantially boosted resilience without unduly limiting credit availability or economic growth," she said.
Managing the Fed is an enormous job. Governors oversee a system with 22,000 employees, a payment operation that forms the backbone of U.S. financial transactions, and a sprawling regional presence with thousands of business and banking contacts throughout the nation. When fully staffed, the governors have a majority vote on monetary policy, which sets interest rates for the economy.
Before it's here, it's on the Bloomberg Terminal.
LEARN MORE