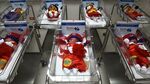 Chinese tourists are coming back to Thailand at the right time: Private hospitals there are badly in need of a new narrative to justify their sky-high valuations.
In August, 1  the number of visitors from the mainland increased 10.3 percent to just shy of one million, the first double-digit growth in a year.
Some savvy investors were ahead of the curve. Popular tourism plays such as Airports of Thailand Pcl and luxury hotel operator The Erawan Group Pcl rallied in the third quarter, bringing this year's gains to 47 percent and 44 percent respectively, outpacing the broader market at 9.6 percent. Bumrungrad Hospital Pcl, which gets more than 60 percent of its sales from foreigners, is up 16 percent since January.
For years, Southeast Asia's private hospitals have relied on wealthy clients from the Middle East, and Thailand's government has long promoted medical tourism. But as oil prices plunged, so did business from the region.

Yet on the stock market, these high-end hospitals remain expensive. Bumrungrad is valued at 24.9 times earnings, well above the 7.1 times EV/Ebitda multiple of U.S. hospital operator HCA Healthcare Inc.
One might argue that Southeast Asia's hospitals deserve a premium because they don't get squeezed by governments or insurance giants. According to Bernstein analyst Laura Nelson Carney, in North America, only 7 percent of hospitals' revenue comes from people paying in cash; the rest is either government-sponsored social programs or private insurance. In Southeast Asia, some two-thirds of revenue is paid out of a patient's own pocket, boosting profitability.

Thanks to more favorable demographics, hospitals in the region have better asset turnover, too. Whereas in the U.S. it takes three to five years for each new hospital to break even, in Southeast Asia, operators can be in the black within 12 months.
But to justify such valuations, investors still want to know about the top line. Can China overtake the Middle East as the new center of growth?
Currently, South Korea and Japan are still the destinations of choice for aesthetics and wellness treatments like anti-aging stem cell procedures. But shifts are occurring: According to Bernstein, 9 percent of Chinese consumers said they would consider going to Thailand for such treatments instead. Bernstein estimates there are already about 1.1 million Chinese medical tourists spending $8.8 billion overseas.

In the second quarter, the number of Chinese patients that Bumrungrad treated jumped 85 percent from a year ago. Bangkok Dusit Medical Services Pcl plans to invest $370 million building a premium wellness center.
These are only green shoots. If Thailand's hospitals want to keep both their patients and investors in good spirits, capitalizing on China is imperative.
Before it's here, it's on the Bloomberg Terminal.
LEARN MORE