Russia Threatens to Retaliate Against U.S. Media for RT's Targeting
By and
Some U.S. media outlets may be declared undesirable: Interfax

Moscow vows response after U.S. targets state broadcaster RT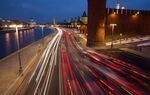 Russia is threatening to retaliate against U.S. media after American authorities targeted state broadcaster RT, accelerating a downward spiral in ties between the two countries.
The Prosecutor General's Office and other government institutions are examining the possibility of declaring a number of U.S. media outlets "undesirable," which under Russian law would ban their activities and financing, the Interfax news service reported on Friday, citing unidentified people. The prosecutor's office couldn't be reached immediately for comment.
"Several of our media are facing unprecedented pressure" in countries including the U.S., Kremlin spokesman Dmitry Peskov said on a conference call Friday, citing RT and the Sputnik state-run news agency in particular. "In the event of further restrictions, further violations of the rights of our media, we of course can't exclude reciprocal actions." He said he wasn't aware of any actions by the prosecutors in this area, however.
The Department of Justice has given RT's U.S. contractor until Oct. 17 to register as a foreign agent, according to the channel's editor-in-chief, Margarita Simonyan. The broadcaster, which faces a halt to its activities if it doesn't comply, will have to provide a list of all employees, their salaries, home addresses and telephones, she said. The U.S. Congress is investigating RT's role in the Russian interference in the 2016 election, as well as possible influence by Sputnik.
Tensions have risen steadily between the U.S. and Russia since Donald Trump took office early this year despite the U.S. president's campaign promises of better relations. The two countries have targeted each other in tit-for-tat diplomatic measures after America toughened sanctions on Russia for alleged election meddling.
CNN Pressure
In what appeared to be a potential first step toward retaliation, on Sept. 29, Russian communications watchdog Roskomnadzor said it had found administrative violations at CNN International's operating company in the country and given it until Oct. 11 to rectify them or face the suspension of its broadcasting license.
Roskomnadzor is monitoring 40 U.S. media, as well as Internet outlets, which are not registered under Russian law, deputy chief Vadim Subbotin told a parliamentary hearing Thursday, the Interfax news agency reported. "Believe me, Russia has enough legal mechanisms, and we also have a very flexible legislature, to take appropriate measures in case the situation on the U.S. rises to a new level," he said.
Russian Foreign Ministry spokeswoman Maria Zakharova said that her country can take action against state or privately-owned U.S. media, including by denying accreditation to correspondents.
"What we're doing is strictly retaliatory measures, they will be balanced, appropriate and specifically targeted," said Andrei Klimov, a Russian senator who heads a committee on defending Russia against external interference.
— With assistance by Ilya Khrennikov, and Stepan Kravchenko
Before it's here, it's on the Bloomberg Terminal.
LEARN MORE