Lawmakers Block Mini-Satellites That Could Spy on North Korea
By
Pentagon sought a $50 million shift from health-care funds

Panel questions funding source, Silicon Valley technology push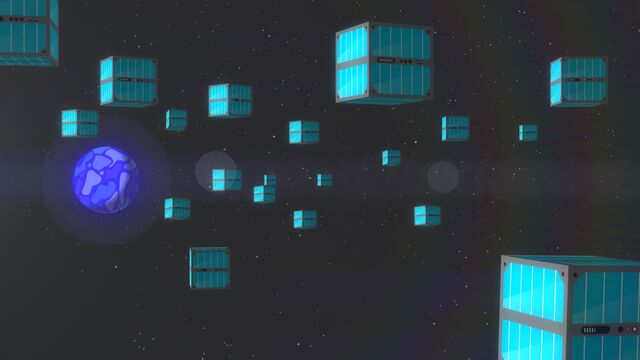 Congressional spending panels have rejected a Pentagon request to transfer $50 million into developing small commercial satellites to monitor adversaries such as North Korea.
The decision by the House and Senate Defense Appropriations subcommittees stymied a plan that the Defense Department said in a budget request would "leverage the commercialization and peacetime use of this prototype technology" to develop a low-cost class of satellite technology "capable of producing medium-resolution imagery."
The proposal from the Joint Chiefs of Staff was greeted with enthusiasm by some lawmakers as the Trump administration works to counter North Korea's push to develop nuclear warheads and missiles that could hit the U.S mainland. "It's something that we really need for many places, particularly Korea," for constant surveillance, Senator Jack Reed, the top Democrat on the Senate Armed Services Committee, said at a hearing in July.
But requests to shift, or "reprogram," funds require approval from all four panels that authorize and appropriate defense programs. While the Senate and House Armed Services Committees approved of the plan, the appropriations panels said no.
Representative Kay Granger, who heads the House defense appropriations panel, notified the Defense Department comptroller of her panel's decision last week. The Texas Republican objected to plans to take the money away from the military's health program and channel the dollars into a new, unproven research and development effort, according to an aide who spoke on condition of anonymity to describe her views.
Read More: Pint-Sized Satellites Promise Spy-Quality Images -- Cheap
Granger also was concerned that the money might flow to companies with no experience developing or launching satellites, the aide said. Military surveillance satellites are normally developed by major defense contractors such as Lockheed Martin Corp.
The satellite contract would have been managed by the Defense Innovation Unit-Experimental, or DIUx, set up by former Defense Secretary Ash Carter and endorsed by current secretary Jim Mattis to fund innovative projects from technology startups.
Granger also objected that developing and possibly launching new commercial-based, smaller satellites with "synthetic aperture radar," or SAR, technology constituted a major acquisition program and not one to be carried out through a reprogramming, the aide said.
The satellite program had been strongly endorsed by Air Force General Paul Selva, vice chairman of the Joint Chiefs of Staff.
"We understand and appreciate the committee's concerns," Lieutenant General Anthony Ierardi, the head of force structure and resources for the Joint Chiefs, said in an email when asked about Granger's stance. "We believe this is an important part of our portfolio of potential capabilities, and we look forward to working with the respective committees on a viable way forward."
Night and Clouds
A satellite with SAR technology can send radar beams from space that bounce off Earth and return to a sensor, which assembles the information to produce a clear image. What separates it from high-powered optical telescopes is that the beams can work at night and pass through clouds.
Researchers in the U.S. began developing SAR after World War II with military applications in mind. Lockheed says it built the first operational version in the 1950s. Since then, the technology has mostly been applied for espionage and military strategy.
SAR satellites have been big and expensive because they need a lot of power to send a radar beam 300 miles (480 kilometers) to Earth and a large antenna to pick up the returning signal. A typical satellite can be the size of a bus, weigh 2,500 pounds (1,100 kilograms), and cost as much as $500 million.
Beach Ball-Sized
A Silicon Valley company, Capella Space, is using cheap, powerful consumer electronics, artificial-intelligence algorithms, and modern control software to get a constellation of small satellites working as a unit. Each Capella satellite is about the size of a beach ball, weighs about 100 pounds, and can produce black-and-white images at 1-meter resolution.
Marine General Joseph Dunford Jr., chairman of the Joint Chiefs, said in a statement to the Senate Armed Services committee this month that the initiative wouldn't reduce the need for larger spy satellites but would "leverage less expensive radar imaging satellites to fill gaps in space-based reconnaissance."
The $50 million in funding would have been split among "multiple awards to non-traditional companies in multiple states that are focused on SAR micro-satellites and advanced analytics," according to a Pentagon statement.
"The combination of these technologies in commercial data and advanced analytics serve as a prototype effort" by the Defense Department "to enable real-time, reliable, and persistent global coverage of the earth from space," it said.
— With assistance by Ashlee Vance
Before it's here, it's on the Bloomberg Terminal.
LEARN MORE