technology
HelloFresh Aims for IPO Start in Second Half of October
By , , and
Meal-kit company is said to distance self from Blue Apron

Rocket Internet company to seek valuation up to $2.3 billion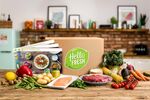 HelloFresh, the meal-kit startup owned by Rocket Internet SE, aims to announce an initial public offering in the second half of October as the German company tries to distance itself from the post-IPO flop of Blue Apron Holdings Inc., people familiar with the matter said.
HelloFresh has been waiting for preliminary third-quarter earnings to be ready to show investors continued growth of the business before announcing an intention to float, said the people, who asked not to be identified because preparations are private. The Berlin-based company and its advisers are meeting investors to gauge demand for the listing, which could value the business at 1.5 billion euros to 2 billion euros ($2.3 billion), and there's been no final decision on the IPO yet, they said.
"An IPO is and remains an option for us but we haven't yet made a decision about timing," Eva Switala, a spokeswoman for HelloFresh, said by phone, declining to comment further.
Companies ranging from power generation business ContourGlobal LP to Spanish German waste recycler Befesa SA are lining up IPOs in Europe amid strong investor appetite for the sales. Issuers in the region have raised close to $43 billion this year, compared with about $22 billion in the same period in 2016, according to data compiled by Bloomberg.
Blue Apron's Shadow
HelloFresh in August reported an increase in sales in the second quarter, trying to underline differences with U.S. competitor Blue Apron, which has lost almost half its value since going public in June. The U.S. company has struggled with higher costs and a decline in customers, just as Amazon.com Inc.'s purchase of Whole Foods Market Inc. highlighted the growing competition in the food business. HelloFresh Chief Executive Officer Dominik Richter says his company is performing better than competitors, citing faster growth, better profitability and market-share gains.
An IPO could be a boon to Rocket Internet, which owns 53 percent of the startup and in June backed a successful IPO by food delivery company Delivery Hero AG. While Delivery Hero mostly processes orders for restaurants that deliver, HelloFresh assembles ingredients into boxed meal kits and seeks to convince customers of the benefits of cooking at home -- a more complex business model. Shares of Delivery Hero have risen 40 percent from their IPO price.
HelloFresh sells meal kits in nine markets including the U.S. and remains unprofitable. Sales increased 53 percent to 230 million euros in the second quarter and the company signed up 90,000 accounts during the period.
The company had planned an IPO in 2015, after a funding round that valued it at 2.6 billion euros, but shelved the stock sale amid concerns about investor demand and valuation in a volatile market, people familiar with the matter said at the time.
— With assistance by Aaron Kirchfeld
(
Adds IPO market volumes in fourth paragraph.
)
Before it's here, it's on the Bloomberg Terminal.
LEARN MORE