Beneath Hurricane-Hit Payrolls, U.S. Labor Market Shows Strength
By and
Jobless rate falls, participation rises, wage gains pick up

Outside of storms, labor market 'seems to be still solid'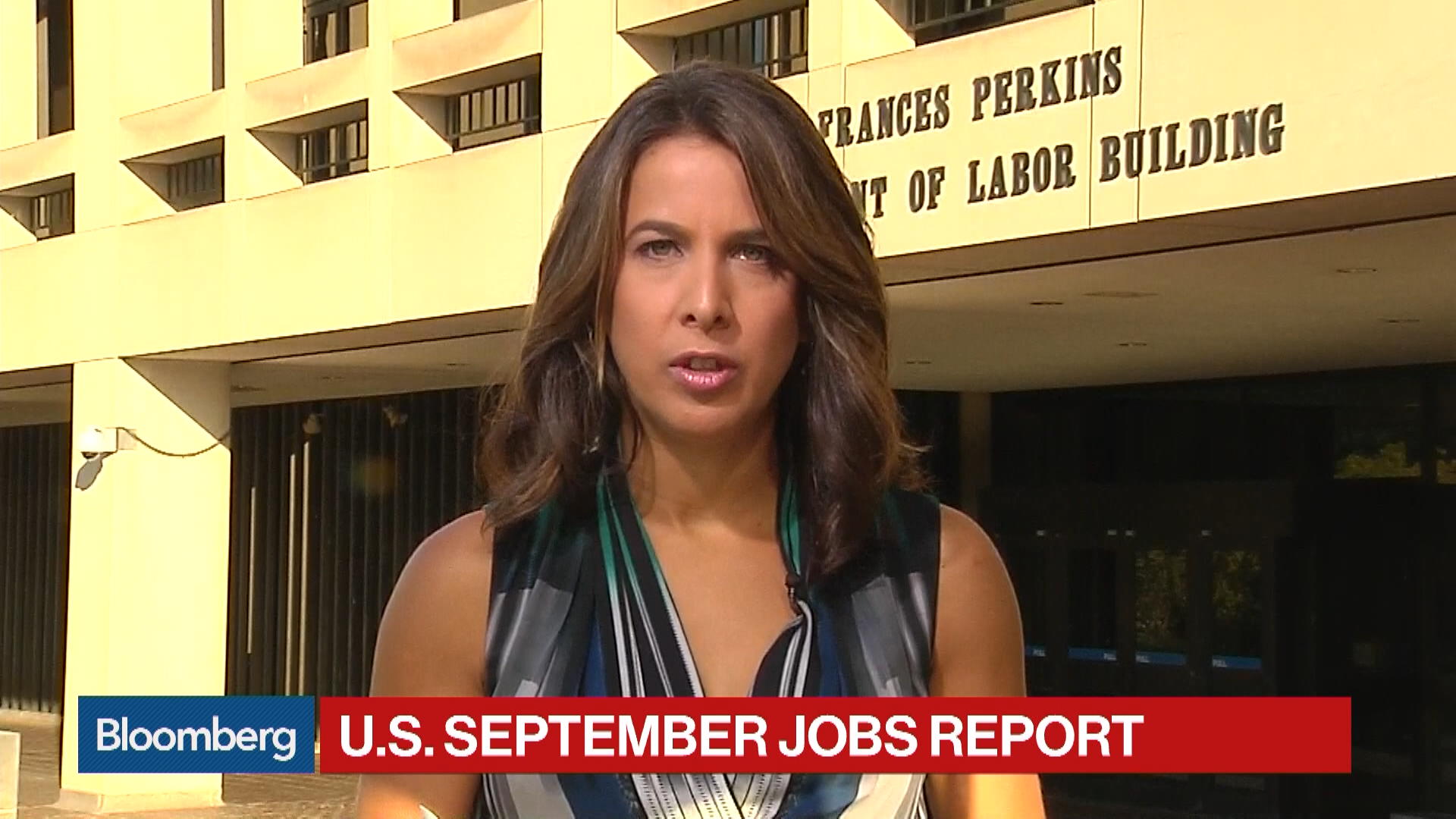 Two major hurricanes knocked down payrolls in September, yet the U.S. labor market is holding up just fine.
That's the broad message from employment figures released Friday by the Labor Department. Payrolls fell for the first time since 2010, reflecting Hurricane Harvey's impact on Texas and Irma's fallout in Florida. At the same time, the unemployment rate dropped to a new 16-year low and labor participation increased, indicating Americans are coming off the sidelines and into work.
The weather effects were clear: The storms helped take out more than 100,000 jobs at restaurants and bars, an industry where most workers only get paid if they show up to work. There were about 1.5 million people unable to work due to bad weather, a 21-year high that compares with a historical September average of about 80,000, Labor Department figures show.
"You have to qualify a lot in this report," said Michael Feroli, chief U.S. economist at JPMorgan Chase & Co. in New York. That said, outside of the hurricane effects, the labor market "seems to be still solid." The drop in unemployment and rise in participation are positive signs, and "we're still creating more than enough jobs to absorb new entrants. The slack is diminishing."

Average hourly earnings jumped from a year earlier by the most since the expansion started in 2009, in part because the storms boosted utility workers' overtime pay and kept people away from work, especially in low-wage industries such as leisure and hospitality. There was also a calendar quirk that tends to produce stronger wage growth when the 15th of the month falls within the survey week.
Highlights of Employment (September)
Payrolls fell 33k (est. up 80k) after 169k advance; revisions subtracted combined 38k in July-Aug.
Unemployment rate, derived from a separate Labor Department survey of households, dropped to 4.2% (est. 4.4%), lowest since Feb. 2001, from 4.4% 
Average hourly earnings rose by 0.5% m/m (est. up 0.3%) after 0.2% rise; up 2.9% y/y (2.87% unrounded)
Yet upward revisions to earnings in the two prior months show wage pressures had been building before the hurricanes hit. And as the impact of the storms fades, the economy will get a boost through the rest of this year and into 2018 because of rebuilding efforts, supported by federal aid and insurance payments, said Gus Faucher, chief economist at PNC Financial Services Group Inc. in Pittsburgh.
Read more: Bloomberg Intelligence says jobs report was more of a weather report
Labor-force flows data showed the number of Americans not in the labor force a month earlier and found a job in September hit a record high.
The tally of people who didn't report to work because of bad weather comes from the Labor Department's survey of households, which reflects the calendar week that includes the 12th of the month. The survey still counts a worker as employed even if they missed that entire week's work for weather-related reasons, regardless of whether they were paid or not for the time off. 
The participation rate, which shows the share of working-age people who are employed or actively looking for work, rose to 63.1 percent, the highest since early 2014. On top of that, the prime-age participation rate -- which covers people ages 25 to 54 -- matched July as the highest since 2010. 
The U-6, or underemployment rate, also withstood the weather, falling to a 10-year low of 8.3 percent. The measure includes part-time workers who'd prefer a full-time position and people who want a job but aren't actively looking. In addition, the number of people working part-time for economic reasons also fell.
Labor Department figures due Oct. 20 will provide a more detailed look at the storm's effects on a state-level basis. In late August, Harvey knocked almost a quarter of U.S. oil-refining capacity offline and caused widespread flooding throughout the Houston region. Two weeks later, Irma cut power to at least 6.4 million customers and paralyzed tanker traffic. Federally-designated disaster counties in Florida and Texas accounted for 7.7 percent of U.S. employment in March, according to the Labor Department.

With the U.S. near full employment, Federal Reserve policy makers have been watching for signs of an acceleration in pay that may push inflation closer to their goal. The probability of a Fed rate hike in December rose to almost 80 percent following the report, from about 75 percent on Thursday, according to the prices of federal funds futures contracts, marking a new high.
"Sub-4 percent unemployment is in sight, and no one at the Fed thinks that can be sustained without triggering higher inflation," Ian Shepherdson, chief economist at Pantheon Macroeconomics Ltd., wrote in a note. "In short, then, the soft payroll number will be ignored at the Fed; unemployment is what matters, and this report therefore makes a December rate hike even more likely.'
— With assistance by Matthew Boesler, Alexandre Tanzi, Kristy Scheuble, and Jeanna Smialek
Before it's here, it's on the Bloomberg Terminal.
LEARN MORE