Activists Against Nuclear Weapons Awarded Nobel Peace Prize
By and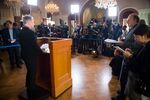 The International Campaign to Abolish Nuclear Weapons was awarded this year's Nobel Peace Prize, endorsing a group that's working to ban atomic weapons at a time when nuclear saber-rattling between the U.S. and North Korea has reached fever pitch.
"The organization is receiving the award for its work to draw attention to the catastrophic humanitarian consequences of any use of nuclear weapons," the Oslo-based Norwegian Nobel Committee said in a statement Friday. The prize also acknowledges ICAN's "ground-breaking efforts to achieve a treaty-based prohibition of such weapons," it said.
Read more on Trump and the Iran deal
The group, which is a coalition of non-governmental organizations in 100 countries, was formed about a decade ago to promote the implementation of the UN nuclear weapon ban treaty. This global agreement was adopted in New York in July, but has failed to find backing of the world's superpowers and many of its allies.
The committee on Friday said "it's aware" that an international legal prohibition will not in itself eliminate nuclear weapons and that "so far neither the states that already have nuclear weapons nor their closest allies support the nuclear weapon ban treaty."
The prize is "a call upon these states to initiate serious negotiations with a view to the gradual, balanced and carefully monitored elimination of the almost 15,000 nuclear weapons in the world," the committee said.
Concerns about a nuclear conflict in North Asia have increased as Kim Jong Un accelerates his program of acquiring weapons capable of hitting the continental U.S., and as President Donald Trump threatens preemptive military action. North Korea's foreign minister last month said the regime's possible next steps include testing a hydrogen bomb over the Pacific Ocean.
The Nobel peace prize, along with awards in literature, physics and medicine honors, was created by Swedish industrialist Alfred Nobel and first awarded in 1901. Past winners include last year's laureate Colombian President Juan Manuel Santos, U.S. President Barack Obama and civil rights leader Martin Luther King Jr. The Norwegian Nobel Committee picks the peace prize. The economics prize, set to be revealed on Monday, was instituted by the Swedish central bank.
Before it's here, it's on the Bloomberg Terminal.
LEARN MORE