Why This State's Navient Lawsuit Could Affect Your Student Loans
Pennsylvania is ground zero for America's student debt crisis.
By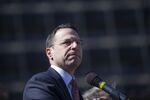 If you're one of the 44 million Americans who have a student loan, there's a good chance the customer service representative who answers your call when there's a problem is in Pennsylvania, where as much as half of the nation's $1.5 trillion student loan tab is serviced.
The Keystone state is home to the Pennsylvania Higher Education Assistance Agency [PHEAA], a quasi-government enterprise that collects payments on a quarter of the nation's student loans, and a three-acre campus north of Philadelphia where about 1,000 Navient Corp. employees busily help manage another quarter.
The state is also home to Josh Shapiro, the Pennsylvania attorney general, who on Thursday filed a lawsuit against Navient that could reverberate well beyond the state's borders. It has already sent the company's stock spiraling down more than 14 percent Thursday morning.
Shapiro sued Navient in federal court alleging a raft of illegal conduct, most notably that it "willfully" and "knowingly" cheated struggling debtors who face long-term hardship by steering them into payment plans that postponed bills, allowing interest to accumulate, rather than helping them enroll in plans pegged to income. Such earnings-based plans offer the possibility of debt forgiveness after years of steady payment. Postponing bills promises higher payments down the line.
"Navient's deceptive practices and predatory conduct harmed student borrowers and put their own profits ahead of the interests of millions of families across our country who are struggling to repay student loans," Shapiro said in a statement.
It's an alleged practice that's come under scrutiny before and has been the focus of complaints by consumer advocacy groups for years. For example, Shapiro's complaint is similar to earlier lawsuits filed in January against Navient by the U.S. Consumer Financial Protection Bureau and attorneys general in Washington and Illinois. Navient has denied the allegations. Judges in those cases have rejected the company's attempts to dismiss the complaints. Today, Navient spokeswoman Patricia Christel said Shapiro's lawsuit is "completely unfounded" and was filed without any review of Pennsylvania residents' accounts, and that the company complies with rules set by the U.S. Department of Education.
Shapiro's case stands out from other state litigation for a few reasons. First, his office oversees companies that handle about half of the nation's student loans, giving him unique access to evidence of alleged misconduct and the employees who may have been involved. Shapiro contends that Navient's loan servicing center in Wilkes-Barre, one of three it has in the U.S., is allegedly responsible for some of the abusive acts he claims the company committed against borrowers.
Second, his case represents a larger attempt by Democratic state law enforcement authorities to police companies and contractors they believe have run afoul of the law during the Republican administration of President Donald Trump. A contingent of close to 20 state attorneys general has bombarded Education Secretary Betsy DeVos with pleas to stop what they say is a systematic effort to roll back key federal rules and agreements meant to protect borrowers from misconduct. They sent their most recent missive last week. (In September, Massachusetts Attorney General Maura Healey sued PHEAA for allegedly mishandling a federal loan repayment program at the expense of low-paid, highly indebted government and nonprofit workers. PHEAA asked a Massachusetts state judge to dismiss Healey's suit on the grounds the company enjoys sovereign immunity because of its link to Pennsylvania's state government.)
Third, Shapiro's lawsuit reflects the power of the CFPB, an agency created in the aftermath of the Great Recession to protect consumers and one Republicans have been looking to eliminate. The agency solicits household complaints about financial products and shares them with state law enforcement to hold financial companies accountable. In announcing his lawsuit, Shapiro cited more than 1,000 complaints Pennsylvania residents filed with the CFPB against Navient.
Shapiro is pursuing claims against  the company in part "because of the accelerated rollback of protections by the U.S. Department of Education for students and consumers," he said. "I am stepping up to fill that breach and ensure that student loan holders are protected in Pennsylvania and across the U.S."
Before it's here, it's on the Bloomberg Terminal.
LEARN MORE