Spanish Court Halts Catalan Parliamentary Session Planned for Next Week
By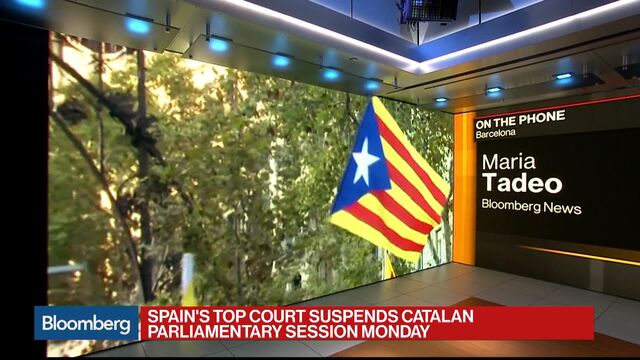 Spain's highest court intervened again in the Catalan secessionist movement, suspending that region's Parliamentary session planned next week to advance its break-away.
The Constitutional Court halted the session planned for Oct. 9, at which Catalan President Carles Puigdemont had wanted to evaluate the result of the independence vote carried out last weekend, the body said in an e-mailed statement. The injunction was made after the court unanimously agreed to hear a challenge to the Parliamentary meeting filed earlier today by the Catalan Socialist party.
The surprise announcement cast doubt over whether secessionists can follow through with their threat of an illegal declaration of independence from Spain as early as next week. It also shows that Spain's courts and largest political parties still have measures at bay to use in keeping the euro region's fourth-largest economy from fracturing.
The Catalan government's plan was to consider the results of its vote and possibly declare independence within 48 hours, both illegal under the 1978 Constitution. The high court, which interprets the constitution, justified the appeal for carrying "exceptional importance" for the document that underlies Spanish law.
Before it's here, it's on the Bloomberg Terminal.
LEARN MORE