Spain's de Guindos Says Catalonia's Independence Push Is Doomed
By , , and
Talk of capital outflows show regional government 'insane'

De Guindos rules out mediation, slams 'illegal' action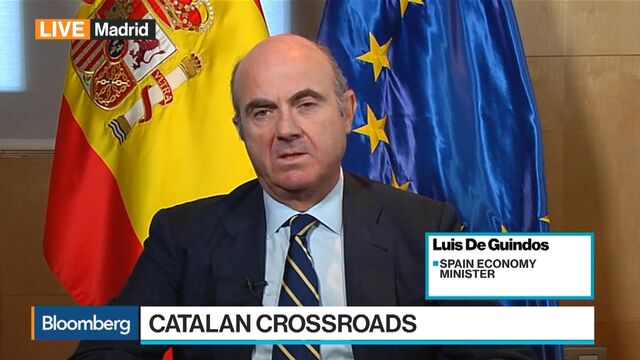 Spanish Economy Minister Luis de Guindos ruled out any sort of mediated talks with separatist leaders and said Catalan banks have signaled they may move out of the region if the push for independence continues.
Speaking on Thursday in a Bloomberg Television interview, de Guindos slammed the Catalan administration for its illegal actions and said independence is out of the question. Spain has nothing to discuss with the secessionists until rule of law is restored, he said. The instability may persuade Catalan banks to shift out of the region, he added.
"They have indicated that if this process goes on, they are totally open to relocating their headquarters to other places in Spain," de Guindos said. "This is a clear indication of how insane is the regional government of Catalonia."
Catalan President Carles Puigdemont on Wednesday night called for outside mediators to help broker a settlement with the Spanish government and said the regional government in Barcelona will soon apply the results of Sunday's makeshift vote. He stopped short of saying how or when he would trigger the process to leave Spain.
"This is not a question of arbitration or mediation, it is a question of a government that has to enforce the law," de Guindos said. "There is nothing to negotiate without the full respect of the rule of law."
Rajoy's Next Move
The prospect of secession is piling pressure on Prime Minister Mariano Rajoy and his minority government and unnerving Spanish financial markets. The premier has been seeking cross-party political support for his hard-line approach after police stormed polling stations and triggered mass demonstrations. The next move could involve suspending the regional government and implementing direct rule from Madrid.
Spanish markets were calmer on Thursday with stock, bond and euro trading reflecting less tension than earlier this week. The IBEX 35 stock index rose 0.7 percent, recovering some of Wednesday's 2.9 percent slide. The 10-year sovereign bond yield spread to similar German debt narrowed three basis points for its first drop in four days, as the Spanish Treasury had an oversubscribed debt sale. And the euro edged higher for a third consecutive session.
The board of Banco Sabadell SA will meet 5 p.m. Thursday to discuss a plan to move its headquarters out of Catalonia, with Alicante, further down Spain's eastern coast, the most likely destination. Sabadell shares, down 10 percent since Sept. 27, jumped 3.5 percent.
Managers at Barcelona-based CaixaBank SA's private banking unit in Madrid have been proactively calling customers to discuss the situation in Catalonia and dispel concerns, according to one client, who asked not to be identified discussing the matter. To help protect clients, CaixaBank is considering a temporary move of its legal domicile to the Balearic Islands if plans for independence go ahead, newspaper El Mundo reported Thursday.
De Guindos, who helped steer Spain through its European bank bailout in 2012, was asked whether there have been deposit outflows from Catalan branches and he said the banks are solvent and executives know what to do to protect their clients.
— With assistance by Ben Sills, Todd White, Esteban Duarte, and Charles Penty
Before it's here, it's on the Bloomberg Terminal.
LEARN MORE