South Africa's Black-Ownership Code May Need Review, Report Says
By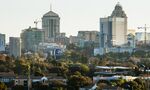 Benchmarks for measuring whether listed South African companies have adequate black ownership need to be reconsidered, according to a report prepared for the National Treasury and submitted to lawmakers discussing transformation in the economy.
Black economic empowerment codes have failed to fix inequalities, partly because of the focus on shareholdings rather than on black management of companies, according to the report, prepared for Treasury by Lynne Thomas, an independent researcher and consultant. BEE deals tend to favor direct owners over indirect owners, who hold their stakes through vehicles like pension funds, according to the report.
"It is strongly recommended that BEE codes must recognize indirect black ownership, and ensure that future deals do not transfer shares from indirect black owners to direct black owners," according to the report. Major financial companies have made progress toward achieving black ownership, but transformation is substantially lagging, in particular in management control and employment equity, it shows.
Black ownership targets were set to redress economic inequalities stemming from white-minority rule under apartheid that ended in 1994, with companies required to meet targets in order to qualify for contracts. President Jacob Zuma has led criticism that the imbalances haven't been adequately dealt with and he has complained that ownership of listed companies by black South Africans remains too limited.
Treasury's report was part of a presentation to Parliament's Standing Committee on Finance in Cape Town this week. In analyzing ownership of the largest companies traded on Johannesburg's stock exchange, the report, using bourse data, shows that:
Foreign investors owned 38 percent of shares traded on the JSE, as of December 2016
South African retirement funds own 24 percent, with 5 percent held by long-term insurance companies, 5 percent in collective investment companies, and 14 percent by investment managers
Other South African investors hold 14 percent of the shares
State-worker pension funds hold 11 percent of the shares
Before it's here, it's on the Bloomberg Terminal.
LEARN MORE