Repealing the State and Local Tax Break Would Kill the GOP's Plan, Schumer Says
By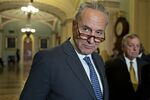 The Senate's top Democrat unloaded on Thursday at the Republican proposal to end the state and local tax deduction, calling it "dumb" and predicting that it alone will "kill" the White House and GOP's tax efforts.
Senator Chuck Schumer of New York said the use of the roughly $1.3 trillion tax break is "deep and wide" and affects many taxpayers in red states like Utah and Iowa as well as New York and California. He labeled it the "Achilles heel" of the framework.
Schumer said the proposed tweaks that Republicans are considering to win over House members in high-tax states -- such as an income cap or letting tax filers choose between deducting mortgage interest and state and local taxes -- are "half baked and won't work."
Representative Chris Collins, a New York Republican, said Wednesday that key GOP members have signaled to him the state and local tax deduction will be preserved in some form.
Before it's here, it's on the Bloomberg Terminal.
LEARN MORE