Putin Hosts Saudi King on 'Landmark' Russia Visit
By , , and
Saudi Arabia to obtain advanced Russian anti-missile system

Putin, King Salman discuss possible oil-output pact extension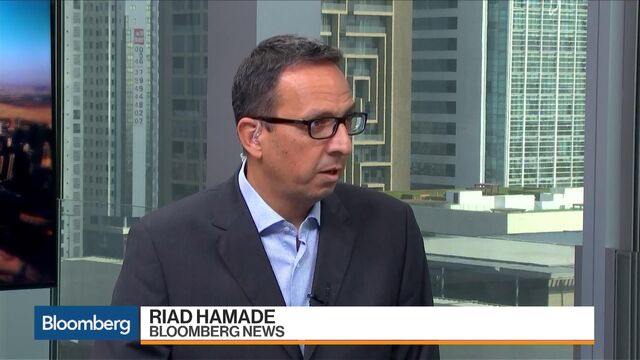 Russia and Saudi Arabia struck a deal on weapons sales during an historic visit to Moscow by King Salman bin Abdulaziz as the two energy superpowers also consider extending a pact to curb oil supplies.
President Vladimir Putin said the Kremlin talks on Thursday with King Salman, the first monarch of the Gulf kingdom to come to Russia, were a "landmark event." The king told him that Saudi Arabia wants to continue cooperation with Russia in order to maintain stability on the oil market.
Russia signed contracts to provide advanced S-400 air-defense systems as well as anti-tank weapons and multiple-rocket launchers, Saudi Arabian Military Industries said in an emailed statement Thursday. The two countries will also set up a joint military-technical cooperation commission, Russian Foreign Minister Sergei Lavrov said.

King Salman's journey to Moscow, ahead of planned talks with President Donald Trump in Washington early next year, is a recognition by Riyadh of the changing political balance in the Middle East after Putin successfully countered indecisive U.S. efforts to topple Syrian leader Bashar al-Assad. The Saudi courtship of Russia also reflects a convergence of interests between the world's two largest oil exporters as output cuts negotiated by the Organization of Petroleum Exporting Countries and non-OPEC producers has spurred a recovery in crude prices.
'Everything's Changing'
"Is there really anything in the world that's absolutely permanent?" Putin told an energy forum in Moscow on Wednesday, in response to a question about whether Saudi Arabia will always align with the U.S. on geopolitical issues. "It seems to me, on the contrary, that everything's changing."
King Salman, who arrived for the four-day state visit late Wednesday, called Russia a "friendly" country. He told Putin, who accepted the king's invitation to visit Saudi Arabia, that their talks will boost the global economy as well as aid international stability and security.
Putin said Wednesday that Russia may agree to extend the oil-supply agreement with OPEC to the end of 2018, though he'll wait to make a decision until nearer the expiry of the existing pact in March.
Saudi Arabia will secure Russian backing to prolong the oil agreement that took effect in January, "but the Kremlin will insist that the deal include some form of tapering," Eurasia Group analysts including Ayham Kamel, Middle East and North Africa practice head, said in an emailed note. The visit "will lay the foundation for strategic cooperation that transcends energy issues, though the Saudis have no intention of abandoning their deep partnership with the U.S."
'Breathed Life'
Cooperation between Russia and Saudi Arabia "breathed life back into OPEC" and made his country more optimistic about the outlook for oil than it has been for several years, Saudi Energy Minister Khalid Al-Falih said after meeting with his Russian counterpart Alexander Novak on Thursday. The "success of this collaboration is clear," he said.
King Salman is visiting as Saudi Arabia looks to deepen energy ties with Russia by inking deals to acquire oil and gas assets. Sibur Holding PJSC signed an agreement on joint oil-refining projects with Saudi Arabian Oil Co., known as Saudi Aramco. Other deals may involve Saudi participation in an Arctic LNG project led by Novatek PJSC and investment into Eurasia Drilling Co., Russia's largest oil drilling contractor.

The head of Russia's state-run oil giant Rosneft PJSC, Igor Sechin, said last month that there'll be pressure for OPEC and its partners to extend production cuts if Saudi Arabia proceeds with an initial public offering of a stake in Saudi Aramco. About 5 percent of the Saudi state oil producer will be offered in an IPO next year that could value the company at more than $1 trillion, depending on the oil market.
"The Saudis will be looking for a solid commitment from President Putin to stick with the production deal with OPEC," said Chris Weafer, a partner at Macro Advisory in Moscow. "That is Riyadh's best hope for keeping the price of Brent in the mid $50's, if not getting it above $60 in time to support the kingdom's ambitious valuation target for Aramco."
Unlikely Partnership
The unlikely partnership between Moscow and Riyadh marks a sharp turn-around from Soviet times. Saudi Arabia cut off relations with the atheist Communist state in 1938, only restoring them after the Soviet collapse. Together with the CIA, the Saudis also armed mujahedeen fighters who ended the Soviet Red Army's 10-year occupation of Afghanistan.
Still, tensions remain over Syria, where Saudi Arabia is pressing Russia to rein in Iran, which the kingdom regards as its chief rival in the region, following the defeat of rebels backed by Riyadh in the war against Assad.
At his talks with Putin, King Salman demanded that Iran stop interfering in the internal affairs of other Middle East nations and destabilizing the region, calling for a political settlement in Syria.
The Saudi king "won't demand the impossible," said Elena Suponina, a Middle East expert at the Russian Institute of Strategic Studies, which advises the Kremlin. "Saudi Arabia is aiming for real cooperation with Russia and understands that you can't split Russia from Iran," she said.
— With assistance by Donna Abu-Nasr, Elena Mazneva, and Samuel Dodge
(
Corrects first name of analyst in last paragraph.
)
Before it's here, it's on the Bloomberg Terminal.
LEARN MORE