Senate Confirms Ex-Carlyle Executive Randal Quarles as Fed Vice Chairman
By
Trump nominee approved by Senate as one of seven Fed governors

He'll be first to fill watchdog role created by Dodd-Frank Act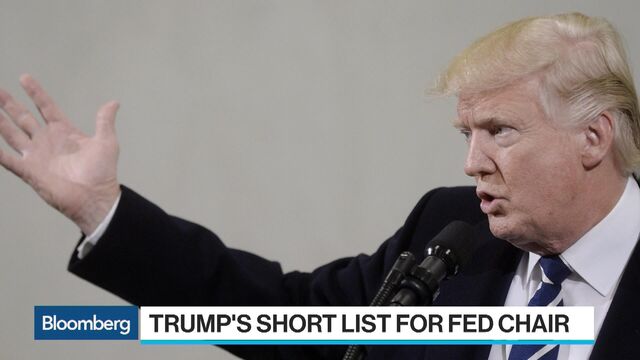 Randal Quarles was approved by the U.S. Senate as the Federal Reserve's first-ever vice chairman for supervision, a post that would give him a pivotal role in efforts to dial back post-crisis rules that Trump administration officials have said are stunting growth.
As Quarles joins the Fed board, he'll become the first of several central bank members President Donald Trump will select as the White House moves to reshape Wall Street oversight and guide an economy in its ninth year of expansion. He's also the only bank regulator confirmed under Trump, whose administration has been limited in its efforts to loosen constraints on bankers.
As vice chairman, Quarles will have extensive influence over the industry's capital and liquidity, as well as enforcement of Dodd-Frank Act measures including the Volcker Rule. As a governor, he'll also serve on the Federal Open Market Committee.
Quarles was a Treasury Department official during President George W. Bush's administration, in the years before the 2008 financial crisis. He has more recently led a Salt Lake City-based private equity firm after a stint at Carlyle Group LP.
The Fed board had three openings, with Quarles's arrival temporarily leaving two vacant seats. Vice Chairman Stanley Fischer is stepping down this month and Janet Yellen's term as chair expires in February. Trump has said that it's possible that he might renominate Yellen, though the White House is said to also be looking at a short list of other candidates.
Quarles was cleared to join the Fed board Thursday in a 65-32 vote that reflected substantial bipartisan support. Senators followed that by approving his nomination as vice chairman in a voice vote. He still needs Senate confirmation for a full 14-year board term that would start next year.
Senator Elizabeth Warren, one of the loudest critics of the Trump administration's Wall Street ties, expressed her opposition in remarks on the Senate floor before the vote. Quarles is taking "another spin through the revolving door" and has demonstrated no independence from the bankers he'll oversee, the Massachusetts Democrat said.
"His motto seems to be: Whatever the big banks want, give it to them," she said.
Quarles was lauded as a "person of great integrity and intellect" in a statement from American Bankers Association President Rob Nichols. The Financial Services Roundtable, which lobbies for major U.S. banks, said in a statement that it "looks forward to working with Randal Quarles to better tailor the financial regulatory system in a way that meets the needs of America's modern economy."
The other U.S. agencies that regulate banking are still awaiting the arrival of Trump nominees. The president chose Joseph Otting, a banker who once worked with Treasury Secretary Steven Mnuchin, to run the Office of the Comptroller of the Currency, though his nomination hasn't yet come before the full Senate. The nominee to head the Federal Deposit Insurance Corp. dropped out in July, and the White House has since been considering the nomination of bank lawyer Jelena McWilliams, people familiar with the process have said.
Before it's here, it's on the Bloomberg Terminal.
LEARN MORE