Venezuela Pledges to Meet Debt Obligations Despite Sanctions
By and
Maduro visits Moscow amid growing reliance on Russian support

Says military cooperation with Russia has proved beneficial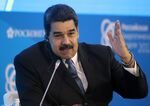 Venezuela will fulfill its sovereign-bond obligations even though U.S. sanctions are affecting its ability to conduct normal debt relations, said President Nicolas Maduro.
Maduro spoke at the Russian Energy Week conference in Moscow on Wednesday as his nation's struggling economy becomes increasingly reliant on the Kremlin's support. The Latin American oil producer is struggling to meet its financial obligations and remains on course for a fourth consecutive year of economic contraction in 2017, according to Fitch Ratings.
International partners whose money helped to boost crude production -- Venezuela's main source of revenue -- in the past decade, including companies from China and India, are now trying to avoid involvement in new loans amid U.S. sanctions.
The government in Moscow has taken a softer approach, offering talks on restructuring Venezuela's bilateral debt. While Russia's state-run oil company Rosneft PJSC said in August that it wasn't currently planning any further prepayments for crude supplies from Petroleos de Venezuela SA's, that could change.
Military cooperation with Russia has also proved to be very beneficial, Maduro said. Venezuela is not discussing any additional prepayment deals with Rosneft, said Oil Minister Eulogio del Pino.
Venezuela's debt restructuring needs "serious discussion," Kremlin spokesman Dmitry Peskov told reporters on a conference call.
U.S. Sanctions
Venezuela and PDVSA have about $29 billion of outstanding debt to China and its state development bank as well as some $9 billion due to Russia and Rosneft, according to Mark Walker, managing director at Millstein & Co., and Richard Cooper, senior partner at Cleary Gottlieb Steen & Hamilton LLP. The nation and PDVSA, its state-run oil producer, are due to pay off $3.53 billion in principal and interest in October and November, according to data compiled by Bloomberg.
The new penalties imposed last month by the administration of U.S. President Donald Trump restrict Venezuela and PDVSA from raising new debt.
A 49.9 percent stake in Citgo, PDVSA's U.S. refining and marketing subsidiary, was put up as collateral for Rosneft's $1.5 billion loan last year. Several U.S. lawmakers have asked the Treasury Department to investigate the matter and block the possible transfer of the shares to Rosneft, saying it could have national security implications.
Venezuela is discussing different collateral options with Rosneft, Del Pino said, without specifying which assets could be offered.
— With assistance by Ben Bartenstein, and Stepan Kravchenko
Before it's here, it's on the Bloomberg Terminal.
LEARN MORE