Tory Conference Lays Bare Brexit Divisions
By
May avoids talking about Brexit at Conservative Conference

Davis keeps low profile as Hammond seeks business support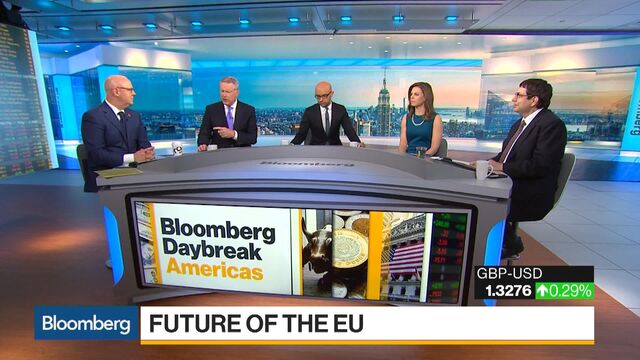 Follow @Brexit for all the latest news, and sign up to our daily Brexit Bulletin newsletter.
Theresa May did her best to avoid talking about Brexit at her party's annual conference, mentioning it only to offer reassuring words. But the divisions it has wrought in her cabinet were daily laid bare.
May went into the annual gathering with a delicate balancing act to pull off: keep the party faithful onside without saying anything that European negotiators could interpret as backtracking on the concessions she announced last month.
So she spoke just 334 words on Brexit in a speech of more than 7,000. Her chief negotiator, David Davis, kept a low profile throughout, making headlines only by joking about imminent retirement.
May's main announcement on Brexit was that her government was preparing to leave the European Union without a deal if talks fail. That's a softening of her previous stance that "no deal is better than a bad deal," but allowed the pro-Brexit camp to be reassured that she's still willing to walk away.
The fifth round of divorce talks starts Monday in Brussels, with the public divisions between cabinet ministers on show. Chancellor of the Exchequer Philip Hammond turned to businesses for support, urging them to help him make the case to skeptical colleagues that getting a transition deal is urgent. Foreign Secretary Boris Johnson drew criticism for his rebellious comments on Brexit, putting May on the spot for most of the week for her reluctance to put him in his place.
Read more: May Flunked Leadership Test as Rivals Emerge Battle-Scarred, Too
May, whose appearance Wednesday was marred by a prankster and an extended coughing fit that left her struggling to finish the speech, will be hoping European negotiators didn't pay too much attention.
"If anyone in Europe was still wondering why the U.K.'s position develops at such an incredibly slow pace, the last days with Boris's red lines and all the scrutiny for May's unlucky speech provide the missing link," said Carsten Nickel, managing director at Teneo Intelligence. "That the U.K. government is also considering a no-deal scenario is only consequential in that light. "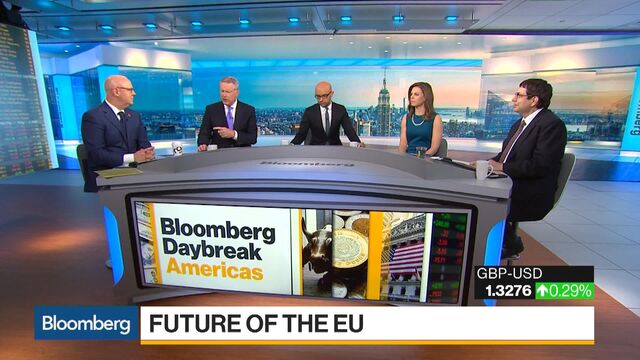 The last round of talks produced some progress after May's speech in Florence on Sept. 22 provided what the EU's chief negotiator, Michel Barnier, called a "new dynamic." May offered to keep paying into the EU budget for two years after leaving in March 2019 and asked for a transitional arrangement on the same timeline that would allow businesses to adapt to the new rules. She also offered to honor the U.K.'s financial obligations more broadly.
Still, the financial settlement remains the main stumbling block as the EU has said talks can't move on to the trade deal the U.K. wants until an outline agreement is reached on what the U.K. owes. As May looks weakened at home, her ability to sell concessions to a domestic audience has also been undermined.
"May ended the conference in a weaker position than at the start," Mujtaba Rahman of Eurasia Group said in a note.
Before it's here, it's on the Bloomberg Terminal.
LEARN MORE