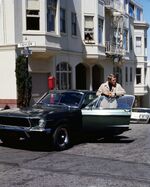 For a chief executive lauded as a"visionary" with great Silicon Valley contacts, Jim Hackett's first big address to Ford investors was a little short of big ideas.
In some ways that's good: Talk about electric, autonomous and connected vehicles is cheap, but paying for those technologies isn't. Still, if Hackett is to create value for Ford's suffering shareholders, as he promised at Tuesday's presentation, he'll need more than cost cuts and tweaks to capital allocation.

The man with a background in office furniture was vague about how to master some of the car industry's epoch-defining challenges. He talked about "leaning into" electric vehicles, which sounds very Silicon Valley while being utterly inscrutable. George Galliers, an analyst at Evercore ISI, said the presentation was stuffed with McKinsey-style "thought slides" and skinny on actual numbers. 
True, Ford is touting $14 billion in materials and engineering savings over five years. But while that sounds impressive, it just means Ford's costs won't balloon as much as they did in the past. Hackett also wants to redirect $7 billion of capital from cars to SUVs and trucks. That's unlikely to get investors too excited; Ford's rivals are already doing much the same because there's still so much demand for giant gas-guzzlers and they're very profitable.
Ford says the plan will push the car unit closer to its long-term 8 per cent operating margin target, compared to 6.7 percent last year. But Hackett hasn't provided earnings guidance for next year.
Without more detail, investors will remain circumspect. Daimler, hardly an industry problem child, expects electric investments will mean a decline of as much as two percentage points in the Mercedes-Benz car unit's return on sales after 2019. 
For a man supposedly in tune with the future, Hackett was short on new directions. Unlike Daimler AG or Volkswagen AG, he doesn't seem to be positioning Ford for a big roll-out of fully electric cars—for now at least. And unlike Fiat Chrysler Automobiles NV, he didn't signal spin-offs to unlock value.
While Ford will consider options for its less profitable European and South American operations, it didn't indicate a full-scale retreat from overseas markets—as General Motors Co. did with the sale of Opel.
In fairness to Ford, it is comfortably profitable, pays a chunky dividend (the stock yields almost 5 percent) and the car division has $28 billion in cash and equivalents. Tesla Inc. and Uber Technologies Inc. would no doubt love to have such problems. But Elon Musk has convinced many smart investors that he has divined the future. Hackett needs to raise his sights a little higher.
Before it's here, it's on the Bloomberg Terminal.
LEARN MORE