Saudi Police Arrest 22 People for Undermining State Security
By and
People arrested for posting videos 'inciting public order'

Saudi authorities warn against 'falling to such practices'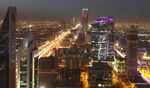 Saudi Arabia arrested 22 people for undermining state security in a widening crackdown against dissent in the Arab world's biggest economy.
The people were arrested for posting videos on social media that "incite public order," and included a Qatari citizen, the official Saudi Press Agency reported. Saudi authorities have started an investigation into their goals and connections, the news service said.
Saudi Arabia's rulers have launched the most severe crackdown on dissent in years, detaining prominent clerics and activists last month ahead of the government's decision to allow women to drive. The arrests also come amid speculation that King Salman may abdicate in favor of his powerful son, Crown Prince Mohammed bin Salman.
The government warned "against the consequences of falling into such practices" and "will not tolerate anyone who commits such acts, and will respond firmly and resolutely to those who seek to undermine the security of the homeland," the State Security Presidency said in a statement late Wednesday.
The decision to allow women to drive has caused a pushback among some in the country's conservative population. "The people reject women driving" was the top-trending hashtag on Twitter after the announcement. Saudi police in the Eastern Province arrested a man for threatening in an online video to burn women that drive, Okaz newspaper reported.
Cheers and Catcalls as Saudis Greet End of Ban on Women Drivers
The Interior Ministry said on Wednesday in a separate statement that 24 people were arrested in the northwestern province of Hail for "exploiting social networking sites to promote lies and exaggerations" with the intention of provoking "sedition and tribal tensions," according to the SPA. It wasn't clear whether there was any connection between the two sets of arrests.
— With assistance by Sarah Algethami
Before it's here, it's on the Bloomberg Terminal.
LEARN MORE