Putin Says He Has 'Zero Personal Relationship' With Trump
By , , and
U.S.-Russia ties hostage to domestic politics in America

Russian leader reveals 2001 North Korea nuclear-bomb claim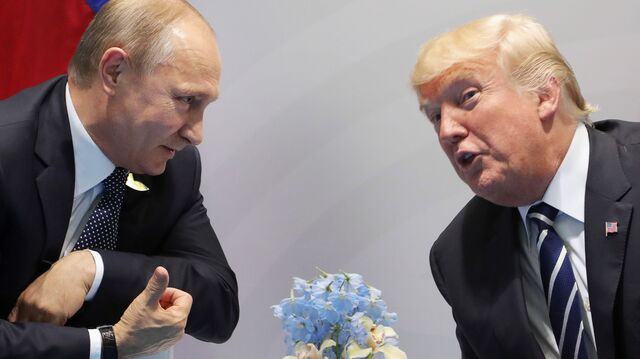 Russian President Vladimir Putin said he has no personal ties to Donald Trump and criticized the U.S. leader for his hard line in the North Korean nuclear standoff.
"We have zero personal relationship. We've only met once,'' Putin said on Wednesday at the Russian Energy Week conference in Moscow. The Russian leader praised Trump as someone with a strong character who will "never be anybody's hostage," but said the relationship between Russia and the U.S. has been poisoned by a domestic political fight in America.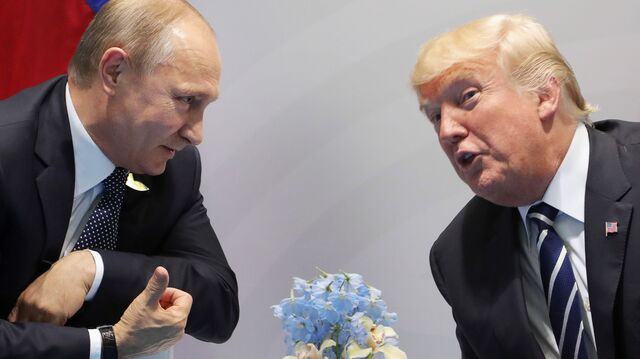 Putin took issue with Trump on the crises involving North Korea and Iran. He said the Iranian side is complying with the agreement curbing its nuclear activities and that Russia will continue defend the pact as the U.S. threatens to walk away from it.
The Russian president said threats like Trump's warning last month in New York that the U.S. would "totally destroy" the isolated Communist state if it strikes at it are leading to a "very dangerous dead end." All sides need to "lower the rhetoric," Putin said.
Trump Learning
Putin revealed that shortly after he took office in the Kremlin in 2000, North Korean leader Kim Jong-Un's father, Kim Jong-Il, told him that North Korea had an atomic bomb, as well as artillery systems which could easily hit Seoul. Nearly two decades of efforts to pressure the regime haven't reduced tensions, Putin said. "Those who try to speak to North Korea from a position of strength only shore up the North Korean regime," he said.
Putin said he'd made that argument in discussions with Trump. "It's his first presidential term, he's still building up experience on that. But I think he took the arguments on board, he heard them," he said.
Tensions have steadily risen between the U.S. and Russia since Trump took office early this year despite the U.S. president's campaign promises of better ties. The two countries have targeted each other in tit-for-tat diplomatic measures after America toughened sanctions on Russia for alleged interference in last year's U.S. presidential election.
Russia has repeatedly denied findings by U.S. intelligence agencies that it intervened in an effort to hurt Democratic challenger Hillary Clinton and ultimately to help elect Trump.
— With assistance by Olga Tanas, and Irina Reznik
Before it's here, it's on the Bloomberg Terminal.
LEARN MORE