Dark Trading Could Triple in Europe Under New Market Rules
By
Trading volumes will flow to bank-run systematic internalizers

XTX co-CEO sees dark trading rising to 30% from 10% of market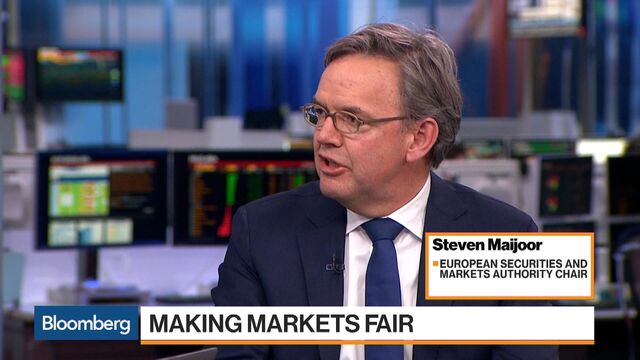 Trading of European stocks on dark markets will probably triple as a result of the MiFID II overhaul, the opposite of what the architects of the law intended, as the new rules give some venues flexibility in how they price shares.
That's according to Alex Gerko, co-chief executive officer of XTX Markets Ltd., an algorithmic trading firm that's one of the region's largest traders. He predicts that dark trading will become as significant in Europe as it is in the U.S., where more than one-third of stock trades happen on dark markets. As much as 10 percent of European equity trading currently takes place on dark pools, including invisible over-the-counter trades.
"This is going to take quite a while: it could take a year, two years," said Gerko, whose firm said this week it would operate a venue to capture dark trades. "The share of dark trading initially will go down. From that low, every month you will see maybe a 1, 2 percent uptick until it reaches somewhere like 30 percent."

What will drive the flow is a new type of trading venue that has sprung up in preparation for MiFID's crackdown on dark pools. They're called systematic internalizers, or SIs -- platforms run by banks and algorithmic trading firms like XTX, and which Gerko says will account for the bulk of equity trades that move to the dark. SIs are seen winning trades from public venues like stock exchanges because the new rules give them greater flexibility in how they price stocks.
Dark trading is one of the most controversial parts of MiFID II. Regulators and lawmakers who passed the rules overhaul into law imposed limits on Europe's dark pools with the intention of driving more trading to stock exchanges. The exchanges had complained that increasing volumes of dark trading impaired their ability to offer the best stock prices. And concerns grew that dark pools, intended to hide whale-sized trades from traders who could bet against them, instead became dominated by tiny, chopped up algorithmic trades.
The stock exchanges got what they wanted, only to realize that MiFID II has created a way to avoid the dark dark-pool caps. Trades on SIs do not count towards the caps. SIs are also exempt from MiFID rules, known as the tick-size regime, that force every other trading venue to price stocks in the same increments.
"The difference in tick size is very important because it creates a strong pressure on the volume to move to this channel," said Gerko.
Read more: how MiFID II will let dark trading stay in the shadows
Gerko is not alone in predicting that SIs will cause overall dark trading to increase, rather than decrease under MiFID II. Larry Tabb, the founder of New York research firm Tabb Group, said SIs will be able to offer better prices than stock exchanges because the banks and speed traders that operate them get to choose who they trade with. SIs can also adjust quotes for larger orders depending on who they are trading against, he said.
"There's a tremendous opportunity for the SI volume to be greater than the volume displaced from other dark pools by the caps," Tabb said in an interview.
XTX says it accounts for more than 10 percent of European stock trading on lit markets during continuous trading. Although XTX will trade as an SI when MiFID II takes effect in January, the firm has emerged as a major critic of the new trading venues.
"Our concerns about certain features of SIs remain: the main one is that SIs will be exempt from the tick-size regime," Gerko said. "We need to be a part of it and we need to provide a quality service to our clients."
Gerko said that two other ways of avoiding the dark-pool caps -- periodic auctions and large-in-scale trades -- would only account for a small proportion of stock volumes.
Not everyone is convinced that SIs will be the big winners from MiFID II. Europe's regulators will change the rules if dark trading on SIs increases, says Steven Maijoor, chairman of the European Securities and Markets Authority.
"What we're trying to achieve with MiFID is move more trading onto the lit market; we're trying to reduce the dark parts," Maijoor said in a Bloomberg TV on Wednesday. "If we see any risks of unintended consequences or that objective is not reached, we will subsequently adjust the requirements."
UBS Group AG also weighed in, saying in a report that stock exchange volume will increase as MiFID's dark-pool caps drive business to transparent markets. Systematic internalizers will only win a modest share of stock orders, benefiting exchange operators including Euronext NV, the UBS analysts wrote.
— With assistance by Mark Barton
Before it's here, it's on the Bloomberg Terminal.
LEARN MORE