May Says U.K. Will Be Ready for No-Deal Brexit If EU Talks Fail
By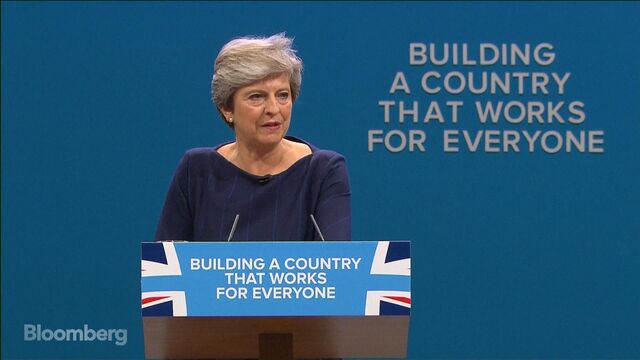 Follow @Brexit for all the latest news, and sign up to our daily Brexit Bulletin newsletter.
The U.K. is preparing itself to leave the European Union without a deal if Brexit talks fail, Theresa May said on Wednesday, in comments that reinforce warnings from her officials over the slow progress of negotiations. 
The prime minister has for now stopped saying that "no deal is better than a bad deal," but instead she and her team are talking up their contingency planning for the possibility that the talks fall apart.
"It is profoundly in all our interests for the negotiations to succeed, but I know that some are worried whether we are prepared in the event that they do not," May told delegates at the Conservative Party's annual conference in Manchester, northwest England, on Wednesday. "It is our responsibility as a government to prepare for every eventuality -- and let me reassure everyone in this hall, that is exactly what we are doing."
Read more: U.K. Is Said to Fear No Brexit Deal as EU Stalls on Trade Talks
On Tuesday, the negotiations descended into a blame game, with both the EU and the U.K. criticizing each other for the slow progress of talks in Brussels.
The bloc won't start talking about future trade agreements until May's government settles the terms of the divorce, including the size of the Brexit bill. With or without a deal, Britain will exit the EU in March 2019. 
Before it's here, it's on the Bloomberg Terminal.
LEARN MORE