Fed Chair Candidate Kevin Warsh Draws Opposition From Left and Right
By and
Druckenmiller has been one of Warsh's biggest boosters

Warsh argued against QE2 with jobless rate above 9% in 2010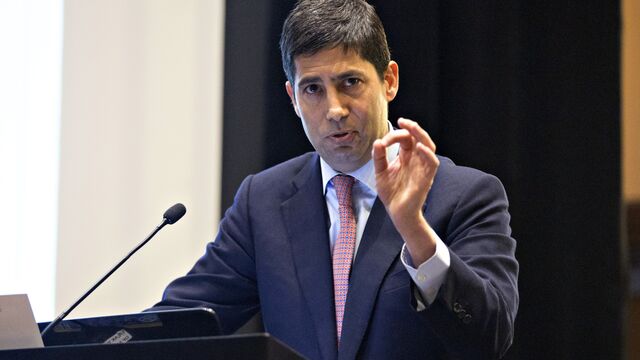 On a Wednesday in mid-September, a group of progressive activists concerned about the stewardship of the American economy packed a meeting room on Capitol Hill with staff of Senate Democrats. Part strategy session and part pep talk, the gathering had a very specific aim.
"We'll do whatever we can do to prevent Kevin Warsh from taking on the role of chair of the Federal Reserve," Jennifer Epps-Addison, president of the Center for Popular Democracy, told the gathering.

The attack from the liberal group on the Republican former Fed governor wasn't surprising. But a few days later, a group closer to him on the political spectrum weighed in. Karl Smith, director of economic research at the libertarian Niskanen Center, assembled a blog for the Washington-based think tank entitled, "Just Say No to Kevin Warsh."
Warsh, 47, is one of four people reported to be on President Donald Trump's short list of potential nominees to lead the U.S. central bank. Warsh, however, stands out as the only contender to draw criticism from conservatives as well as liberals aimed at stopping his bid for the job. Some of that opposition may have been spurred by his public attacks on the Fed itself.
"There is a fair body of public comments by Warsh that are contrary to the institution," said Mark Spindel, author of a new book on Fed independence. "He seemed to be fighting for less, not more during the crisis. He seemed to be worried about inflation the way some of the right-wing members of Congress talked about it. Those chickens may be coming home to roost."
Read Bloomberg Intelligence Economists' Take on the Fed Chair Search
Others possible candidates for the chairmanship include Fed Governor Jerome Powell and Trump economic adviser Gary Cohn. The president has also said he would consider reappointing Janet Yellen, whose term as chair expires in February.
Warsh served at the Fed from 2006 until 2011. Since leaving, he has worked for billionaire hedge fund investor Stanley Druckenmiller and held a fellowship at the Hoover Institution, where he has been a relentless critic of the central bank. Warsh did not respond to a request for comment made to Hoover. Eryn Witcher, a Hoover spokeswoman, declined to comment on the record.
Warsh doesn't have a Ph.D. in economics, viewed by some as a weakness for a Fed chair. But neither did Paul Volcker or Marriner Eccles, two transformative chairmen in the central bank's century of policy making. "Many successful chairs were non-academics," said Michael Gapen, chief U.S economist at Barclays Capital Inc. 
Druckenmiller declined to comment for this article. But at an investment conference in May he praised the former Fed governor for his "exceptional ability to predict the ebbs and flows of the U.S. and global economy, and both the impact and limitations of policy makers."
FOMC Transcripts
Warsh critics land some of their toughest blows when they use his own statements, preserved in speeches or in the transcripts of Fed meetings.
In November 2010, Warsh argued against a second round of bond purchases aimed at lowering long-term borrowing costs, even though the Fed's benchmark policy rate had been near zero for almost two years, with unemployment still high and inflation well under its 2 percent target.
Congress has given the central bank a dual mandate for price stability and maximum sustainable employment. Revised data show unemployment was 9.4 percent the previous month while inflation was running at 1.3 percent.
"If I were in your chair, I would not be leading the committee in this direction," Warsh told then Fed Chairman Ben Bernanke, transcripts of the meeting show. "Frankly, if I were in the chair of most people around this room, I would dissent."
Ultimately, Warsh didn't dissent. A few days later he aired his doubts over the policy in the Wall Street Journal. Bernanke, writing in his 2015 memoir "The Courage to Act," played down Warsh's public comments and praised his political and markets savvy during the crisis as "invaluable."
QE Debate
The Fed ultimately conducted three rounds of asset purchases, swelling its balance sheet to $4.5 trillion. Critics of the action still question how well it worked.
Before the crisis, Warsh also championed Wall Street innovation and lauded the growth of credit securitization. Exposure by banks to mortgage debt through such investments nearly destroyed the global financial system after the U.S. housing market collapsed in 2008.
In a March 2007 speech, Warsh said financial innovation had been an important source of strength and though new products had not been stress-tested by the market, "there almost certainly will remain a greater dispersion and insurability of risks."
He wasn't the only one at the Fed to miss the risks. As concern bubbled about subprime mortgage losses, Bernanke said in May 2007 that troubles in that sector "will likely be limited" and would not spill over to the wider economy.
Warsh's Stance
Once the crisis was in full swing, however, Bernanke used powers untouched since the Great Depression to stand behind the shaken financial system. His own research suggested that financial systems could accelerate and deepen economic crises. By contrast, Warsh leaned toward doing less at a time when nearly 1 in 10 Americans were out of work.
"It is not obvious why he would be a good choice," said Scott Sumner, the director of the monetary policy program at the Mercatus Center, a free-market oriented research center at George Mason University in Fairfax, Virginia. "He was given a chance to do a good job at a lower level, and did poorly."
Dean Baker, co-director of the Center for Economic and Policy Research, criticized Warsh's record, saying he lacked a long resume of public service or expertise in economics to compare with Fed chiefs Yellen, Bernanke, Volcker or Alan Greenspan.
Warsh worked on Wall Street at investment bank Morgan Stanley after graduating from Harvard Law School in 1995. In 2002 he joined the administration of President George W. Bush, where he served as a special assistant for economic policy. He's married to Jane Lauder, daughter of Trump friend Ronald Lauder and a global brand president at the cosmetics company founded by her grandmother, Estee Lauder.
Whoever Trump picks is subject to confirmation by the U.S. Senate and it's not clear that the anti-Warsh crowd are gaining traction on Capitol Hill. That said, some of those opposed are aiming higher.
"We want to convince President Trump that Warsh is not in his interest," said Jordan Haedtler at the Center for Popular Democracy's "FedUp" campaign, viewing Warsh as a hawkish pick who'd favor higher rates that would hurt employment. "Trump doesn't want to do this, either from a political or economic perspective."
— With assistance by Katherine Burton
Before it's here, it's on the Bloomberg Terminal.
LEARN MORE