Catalan Companies Weigh an Exit as Investors Laud Their Plan B
By
Drugmaker Oryzon soars after deciding to leave for Madrid

A company in benchmark index is said to have contingency plan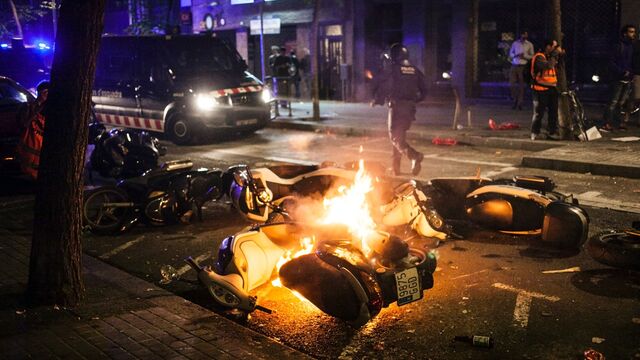 Drugmaker Oryzon Genomics SA became the first listed company to announce it's moving out of Catalonia following an illegal independence referendum in the region that has pushed Spain into political chaos. Other companies are considering doing the same.
Oryzon shares rose as much as 33 percent Wednesday after it announced it would move to Madrid from Barcelona, indicating that investors welcome companies ridding themselves of the political uncertainty surrounding Catalonia's push for independence. Oryzon's move is the clearest example so far of rising corporate anxiety, as other companies based in the coastal region prepare plans in case political tensions worsen.

At least one of the seven Catalonia-based companies in Spain's Ibex-35 index has a contingency plan for leaving the rebellious region, a person familiar with the matter said, although it wasn't clear what specific circumstances would trigger a move. At least one other company started studying possible scenarios several weeks before the referendum Sunday, although no decisions have been made on contingency plans, said another person with knowledge of the situation. Both of the people asked not to be identified because the deliberations are confidential.
The seven Ibex listed Catalan companies are banks CaixaBank SA and Banco de Sabadell SA, energy distributor Gas Natural SDG SA, road operator Abertis Infraestructuras SA, drugmaker Grifols SA, phone mast operator Cellnex Telecom SA and property company Inmobiliaria Colonial Socimi SA.
Police Crackdown
With political and social tensions growing on the back of a police crackdown on voters and the national government calling regional leaders irresponsible, King Felipe gave a speech Tuesday in which he called for the preservation of the unity of Spain and criticized the regional administration for breaking the law.

In an emailed memo to staff Tuesday, CaixaBank said it will defend the interests of clients, shareholders and employees amid the political standoff, and that commitment will guide future decisions. A press officer for the Barcelona-based company declined to comment on the memo.
Some U.S. companies that base their Spanish operations in Barcelona have prepared plans that would allow them to withdraw from Catalonia overnight if it secedes, Jaime Malet, chairman of the American Chamber of Commerce in Spain, said in a phone interview in mid-September.
Oryzon's board agreed to move the company's legal domicile from the Catalan capital "to optimize its operations and relations with investors," the drugmaker said in a regulatory statement late Tuesday. No further details were offered and the company declined to comment further. Oryzon was founded in 2000 and employs 35 people, according to its website, and has a market value of million euros ($71.9 million).
Oryzon Surges
Oryzon shares rose 16 percent to 2.08 euros at 12:35 p.m. in Madrid after posting the biggest rise intraday gain since Nov. 16. The company has two experimental medicines in clinical trials, ORY-1001 for cancer and ORY-2001 for Alzheimer's disease and other neurological disorders. Roche Holding AG, which had licensed ORY-1001, decided to discontinue development of the compound, Oryzon said in July.
Companies including Unilever NV and Inditex SA were affected by a strike called Tuesday by secessionist groups and minor unions, highlighting the uncertainty faced by corporations that operate in Catalonia.
On Aug. 1, Naturhouse Health SAU announced it was moving its registered office from Barcelona to Madrid. At the time, the company said the relocation was due to operational causes.
Before it's here, it's on the Bloomberg Terminal.
LEARN MORE