Japan's New Opposition Should Be Good for the Yen, Goldman Says
By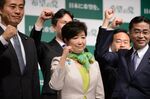 While little is yet known about Japan's new national opposition party, any gains in polls for the group led by Tokyo Governor Yuriko Koike should be good for the yen, according to Goldman Sachs Group Inc.
"The bottom line for FX markets is that dollar-yen should tend to be negatively correlated with polling results for Hope, at least until the party's views on monetary policy become clearer," Goldman analysts Zach Pandl and Kamakshya Trivedi wrote in a note dated Oct. 2. "Hope" refers to Koike's Party of Hope, which is gaining interest in the run-up to the Oct. 22 general election.
Prime Minister Shinzo Abe, who is still most likely to win the ballot in Goldman's view, has overseen a policy program that revamped leadership at the Bank of Japan. That unleashed unprecedented monetary stimulus, weakening the yen. At stake in the election is the chance to nominate BOJ Governor Haruhiko Kuroda for another term starting in April, or choose a new candidate.
"Given their change/reset campaign message, we believe a victory would call into question the sustainability of the BOJ's easy stance, and open the field of candidates" for BOJ chief, the Goldman analysts wrote. The Koike group has a "fighting chance of making substantial inroads" in the vote, they wrote.

Before it's here, it's on the Bloomberg Terminal.
LEARN MORE