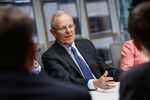 Peruvian President Pedro Pablo Kuczynski, a onetime Wall Street investment banker, has spent much of his 14 months in office jousting with Congress. It has the upper hand. Kuczynski, 78, is Peru's first leader in a quarter century to govern without a majority in Congress. The opposition has enough votes to block legislation and force cabinet ministers to resign. It forced Kuczynski's entire cabinet to quit in a no-confidence vote Sept. 15, paving the way for -- take your pick -- a period of smoother relations with the government, or greater turbulence ending with dissolution of the current Congress.
1. What's the fighting about?
Peru's Congress has proved to be more interested in weakening Kuczynski's administration than in considering his ideas for reforming labor legislation, the welfare system and the judiciary. The main opposition party, Popular Force, holds 71 of the 130 seats in the single-chamber Congress and has exploited political errors by Kuczynski, leader of the Peruvians for Change party, and his cabinet of technocrats.
2. What does the opposition want?
Power, naturally. Popular Force has an eye on local elections in 2018, and then the 2021 presidential race. Its leader, Keiko Fujimori, the daughter of former President Alberto Fujimori, is Peru's most popular political figure, according to polls. Initially favored to win the 2016 presidential race, she lost to Kuczynski in a runoff by about 40,000 votes out of the 17 million cast. The same day Kuczynski took office, Fujimori pledged to execute her own government program via the legislature. Yet in many areas, including economic and fiscal policy, her party's stance is little different from Kuczynski's.
3. What triggered the no-confidence vote?
After a two-month teachers' strike that spawned sometimes-violent street protests and damaged the government's popularity, Popular Force said it planned to force out the education minister. Ten months earlier, the opposition had arranged the ouster of her predecessor. Hoping to prevent the loss of a second education minister, cabinet chief Fernando Zavala, who also faced opposition calls to resign over the handling of the strike, called a vote of confidence in the government, and it failed.
4. What were the consequences?

The whole 19-member cabinet had to resign. Kuczynski picked Mercedes Araoz -- a lawmaker from his party who had held several cabinet posts under former President Alan Garcia -- as his new cabinet chief. Araoz, in turn, announced a new lineup including 13 members of the original cabinet and five new ones.
5. Will the new cabinet fare any better?
It might, if only because lawmakers have an incentive to make the situation work. That's because Peru's constitution entitles the president to dissolve Congress and call congressional elections if two of his cabinets receive a no-confidence vote. Plus, Kuczynski used the opportunity to remove some of his less-popular ministers and bring in others with more political experience. He replaced progressives heading the education, health and justice ministries with conservative-leaning figures, possibly to placate Popular Force and Garcia's Apra party. Every new cabinet must ask Congress for its blessing.
6. How have investors responded to the cabinet changes?
Jitters caused by the confidence vote didn't last long. Peru's currency bounced back once the new cabinet was in place, and the bond market was unfazed. Still, the risk that growing political turmoil could harm Peru's recovery from a record investment slump was among the reasons cited by Bank of America when it downgraded its buy recommendation on Credicorp, Peru's biggest financial services company.
7. Could Kuczynski himself be forced from office?
That can't be ruled out. Peruvian leaders who lacked a majority in Congress were deposed by the armed forces in 1948 and 1968. The legacy of Fujimori's father poses a different scenario. He governed with a minority for less than two years before closing parliament in 1992 and seizing dictatorial powers. Peru is enjoying one of its longest periods of uninterrupted democratic rule since independence from Spain in 1821. 
The Reference Shelf
The Economist examines Kuczynski's battle with Congress.
Peru Reports profiles Kuczynski.
A Forbes article details Peru's economic challenges.


Before it's here, it's on the Bloomberg Terminal.
LEARN MORE