Tudor Jones Tells CEOs Stop Focusing on Profits Above All Else
By
Today's companies are creating wealth disparities, Jones says

'Shareholders have benefited at the expense of labor'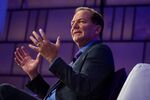 Paul Tudor Jones says corporate chiefs have gone too far in embracing economist Milton Friedman's profit-above-all-else ethic and they need to change how they do business.

Corporations have paid too much attention to prioritizing shareholders, said Jones, who's backing a nonprofit called JUST Capital that will rank companies on how well they treat their employees, consumers, communities and investors. Tudor, who runs the $7 billion hedge fund firm Tudor Investment Corp., spoke Tuesday at the Forbes Under 30 summit in Boston.
Even Friedman would rethink his ideas if he could see how divided the U.S. has become in terms of wealth, said Jones, a billionaire.
"One of the key things that always ends up tearing down great civilizations and countries is wealth disparity. It's not sustainable," he said. "The way wealth disparity has been historically dealt with is either wars, revolution or taxes. My guess is in the future it'll be one of those three in this country."
At the time of Friedman's 1970 article, "The Social Responsibility of Business Is to Increase Its Profits," the maximum federal individual tax rate was 70 percent, versus about 40 percent today. The wealth gap was one-fifth of what it is today, said Jones.
Friedman believed corporate executives should make as much money as possible while "conforming to the basic rules of the society." The economist also thought that if people want to do good in society they should do so through personal charity rather than through the companies they manage, direct, or invest in.
Social Impact
"I would argue today if he came back and saw where we are as a country, I don't think he would say that," said Jones, 63. "Shareholders have benefited at the expense of labor and that has had a huge social impact on this country."
Jones's nonprofit will rank the 1,000 largest U.S. firms by equitable behavior in the JUST index. The top 100 companies will be able to label their products with a JUST seal and will be included in an exchange-traded fund to be started next year, he said.
Since 2000, those 100 companies have outperformed the S&P 500 index, he said. Technology companies lead the index, though companies from almost every other industry will be included, he said.
Corporate Values
The index will "highlight and begin a debate about what is the true purpose of a corporation," he said. "The companies of tomorrow are the ones that are paying their workers better, are the ones that are creating more jobs, are the ones that actually have more of a social conscience."
Jones ranked his own company using the JUST criteria and discovered that he underpaid the people hired to landscape the property surrounding his Greenwich, Connecticut-based firm. They were paid $11 an per hour.
"We looked through our contractual workers and upped their pay so they could get to a living wage," said Jones, whose net worth is estimated at $3.1 billion, according to the Bloomberg Billionaires Index.
Separately, the legendary trader, who has struggled in recent years with client withdrawals amid lackluster performance, raised about $300 million for a new macro fund, Bloomberg reported Tuesday. Tudor's flagship BVI Global Fund is about flat on the year after gaining 1.9 percent in the first three weeks of September, an investor document shows.
Read more about Jones's new fund here.
Jones laid off 15 percent of his employees last year, a rare move for a man who's known for his loyalty towards staff. He has told clients he will manage a larger chunk of their money and has encouraged his portfolio managers to take more risk. He's also leaned on quantitative tools to help with trading.
Jones is also well known for his Robin Hood Foundation, an organization that has raised millions for poverty-fighting charities, which he started in 1988. Despite his philanthropic efforts, Jones has been the target of protesters like the "Hedge Clippers," who gathered outside his home in 2015 and lambasted Jones for funding Republican efforts that include blocking a minimum wage hike.
"Perhaps it's a good thing that Tudor Jones is soliciting help from the general public to define good corporate behavior," the group wrote on its website in 2015. "For someone who is unironically seeking to fix the income inequality problem in America, it's only fitting that his first step is admitting that he has a problem."
Last year, after living in Connecticut for decades, Jones moved to Florida, which has no income tax.
— With assistance by Saijel Kishan
Before it's here, it's on the Bloomberg Terminal.
LEARN MORE