Trump Heads to Puerto Rico After Criticism of Storm Response
By , , and
President's weekend tweetstorm chilled relations with island

White House says aid request to go to Congress this month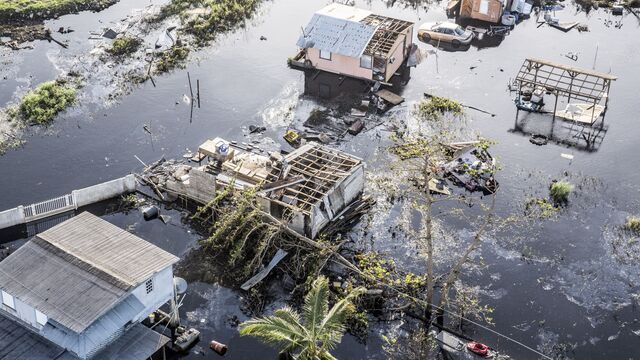 President Donald Trump arrives in Puerto Rico on Tuesday to confront a natural disaster that has exposed his inexperience at governing and raised questions about his competence to handle a major crisis.
Trump's visit offers a chance to show his commitment to rebuilding an island that remains almost completely without power and short on food, water, medicine and other supplies nearly two weeks after Hurricane Maria. The trip, along with one a day later to Las Vegas after a mass shooting there, poses a test of his capacity to fulfill the president's traditional role of uniting the country in moments of tragedy.
Less than an hour before his departure, Trump was unabashed in promoting the federal response in Puerto Rico, describing the effort as "incredible" and comparing it to the response to recent hurricanes in Texas and Florida.
"In Texas and Florida we got an A-plus, and I'll tell you what, I think we've done just as good in Puerto Rico, and it's actually a much tougher situation," Trump told reporters outside the White House on Tuesday. "Now the roads are clear, the communications are starting to come back."
That was in stark contrast to days of complaints from the island that the administration's response was falling short, having waited eight days to waive restrictions under the Jones Act that limits which ships can deliver relief supplies. Trump also was criticized for tweeting more about football players kneeling during the national anthem in the days after the storm than about the crisis on Puerto Rico. After a desperate plea from San Juan Mayor Carmen Yulin Cruz, Trump's retort was to call critics on the island "ingrates."
Truck Drivers Needed
"They want everything to be done for them when it should be a community effort," Trump said Saturday of Puerto Rico's leaders on Twitter.
Trump continued to complain about local leaders on Tuesday, saying that Puerto Rican officials were unable to secure enough truck drivers to distribute supplies.
"On a local level, they have to give us more help," Trump said.
The bankrupt territory's recovery stands to be long and expensive, with serious implications not just for Puerto Rico's residents but also its bondholders, U.S. taxpayers and perhaps even Trump's political prospects. Puerto Rico's $74 billion of debt cripples its ability to raise money on its own.

One potential outcome, should rebuilding bog down, is that some of the island's 3.4 million residents, who are American citizens, could relocate en masse to Florida and other mainland states. Even before the storm, Puerto Rico's fiscal plan released in March projected that the island's population would decline by 0.2 percent a year during the next decade.
The effects are already being felt in South Florida. The Miami Herald reported that the Miami-Dade school district is preparing for an influx, given that it could be months before some of Puerto Rico's 350,000 students are able to return to their local schools.
Crippling Debt
After his tweetstorm over the weekend, the president may receive a chilly reception on the island. He and his staff were asked repeatedly on Monday whether he would continue with the trip, especially after at least 59 people were killed by a gunman in Las Vegas.
In San Juan, construction worker Carlos Martel-Fernandez said he'd rather the White House send diesel than Trump.
"If he's going to make a mess here with traffic then he can stay home. We have enough problems of our own," he said while waiting in line for gas during his lunch break.
The White House plans to propose legislation to aid Puerto Rico sometime this month, according to an administration official. The president must try to strike a balance between an amount significant enough to provide real relief and jump-start reconstruction and a figure too large for congressional Republicans to stomach.
Aid Legislation
Raul Maldonado-Gautier, the island's Treasury secretary, predicted the territory would need "tens of billions" of dollars in aid from Washington, according to the Financial Times.
Senator John Cornyn of Texas, the second-ranking Republican in the chamber, said Monday that Puerto Rico aid would be combined with more money for storm recovery in Texas and Florida. Senator Richard Blumenthal, a Connecticut Democrat who has accused Trump of employing "a double standard for disaster relief" that is more generous to the U.S. mainland, said Tuesday that Congress should provide about $15 billion in immediate aid to the territory.
The help is desperately needed.
As of Monday, almost all private homes and businesses remained without power. Half the island lacked access to water and sewage treatment. Only 65 percent of supermarkets were operating; 69 percent of gas stations; and 17 percent of cellular towers, according to data compiled by the commonwealth government. Just 27 percent of the island's 1,166 ATMs were dispensing bills, on an island where virtually no one was in a position to accept credit cards.
Communities Cut Off
Travel has become easier; debris has been cleared from the San Juan metropolitan area and many major highways. But rural mountain towns in central Puerto Rico remained cut off even from neighboring communities, straining relief efforts. Even in the capital, the stoplights aren't working.
All of that -- plus a mandatory 9 p.m. to 5 a.m. curfew -- has translated into long lines everywhere and an economy that has barely accelerated to a crawl.
Alejandro de la Campa, director of FEMA in Puerto Rico, said Monday that the agency, in coordination with the governor and the National Guard, had distributed 2 million liters of water and a million meals. De la Campa said FEMA had installed generators at water plants and hospitals and established a fuel task force specifically to ensure diesel for medical facilities.
Government employees have personally visited municipalities without communication, equipped with tablets to take applications for aid. $7 million has been disbursed thus far, de la Campa said.
But there is recognition even in Trump's party that the federal response to the disaster has fallen short.
Lost Days
Senator Marco Rubio, a Florida Republican, noted that Trump's homeland security adviser, Tom Bossert, had said "that it took them a couple days to figure out what he called the 'business model.' That traditional model of support that you would see in the mainland event was not working.
"I think in hindsight we all wish we could get those three or four days back," Rubio said in a news conference on Monday.
Trump had said opposition from "the shipping industry" was a factor in his decision to wait more than a week after Hurricane Maria made landfall to waive the Jones Act, while granting it last month even before Hurricane Irma reached land in Florida. The 1920 Jones Act requires shipments of goods between two U.S. ports to be made with American-flagged vessels, limiting the amount of shipping and driving up its cost.
The weekend after the hurricane struck Puerto Rico, the president was engaged in a Twitter battle over professional athletes while visiting his golf club in Bedminster, New Jersey.
On Tuesday, Trump is expected to meet with Puerto Rico's governor, Ricardo Rossello, as well as Kenneth Mapp, the governor of the U.S. Virgin Islands, which were badly damaged by Hurricane Irma. The White House said the mayor of San Juan has been invited to meet with Trump. The president attacked her on Twitter after she criticized the acting Homeland Security Secretary, Elaine Duke, for calling the government's Puerto Rico response a "good news story."
Bankrupt Territory
The island's financial condition only complicates its recovery.
Puerto Rico's federal oversight board, which was given broad authority over the island's budget, had anticipated that the territory's economy would remain mired in recession for years even before Maria. The fiscal plan it approved in March forecast that the economy would continue to shrink until 2022.
But that plan figured Puerto Rico would slow an exodus of its population, an assumption cast in doubt by the storm.
Members of the oversight board have met with officials in the Trump administration and Congress following the storm, urging leaders in Washington to increase financial assistance, lift financial aid caps, and waive the local government's cost-sharing requirements. The White House has suspended shipping rules requiring goods to arrive aboard American vessels through the end of the week, and temporarily suspended a requirement that local governments match federal disaster relief funds with money of their own.
Some think the president's visit could shine a spotlight on the island's plight.
"Bringing Trump down here will put Puerto Rico in the forefront," Jerome Garffer, an attorney, said. "We are still all Americans after all. Some of us might speak with an accent, but we're still American."
— With assistance by Nathan Crooks, Jonathan Levin, Kathleen Hunter, and Toluse Olorunnipa
Before it's here, it's on the Bloomberg Terminal.
LEARN MORE