MoneyGram Deal Is Said to Spur Schumer Warning Over Security
By
Democratic leader says foreign access to U.S. data poses risks

China's Ant Financial has agreed to buy MoneyGram service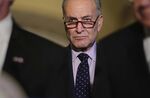 Foreign takeovers of U.S. companies that control Americans' personal information should be scrutinized for risks to national security and possibly blocked, Senate Minority Leader Chuck Schumer is planning to tell the Trump administration as it reviews a batch of Chinese deals.
Schumer, a Democrat from New York, plans to send a letter to Treasury Secretary Steven Mnuchin on Wednesday urging the administration to closely scrutinize acquisitions that give overseas investors access to personally identifiable and sensitive financial information about Americans, including those in the military.
The warning was prompted by the Equifax Inc. breach and the pending sale of money-transfer service MoneyGram International Inc. to Ant Financial of China, according to a person familiar with the matter.
"Such information could provide a foreign government with access to information that could be used for intelligence or other purposes adverse to U.S. interests, and thus deals that would convey such data must be closely scrutinized," Schumer says in a draft letter that was obtained by Bloomberg News. The letter will also be signed by Senator Sherrod Brown of Ohio and Senator Michael Bennet of Colorado, both Democrats.
MoneyGram shares fell as much as 4.5 percent and closed down 3.8 percent, to $15.59, in New York.
Chinese takeovers of American companies have prompted warnings from Capitol Hill about risks to national security. Last month, President Donald Trump, citing the need to protect U.S. security, blocked the sale of Lattice Semiconductor Corp. to a buyer funded by a Chinese state-owned entity.
Foreign takeovers of U.S. businesses are reviewed by the Committee on Foreign Investment in the U.S., which is headed by the Treasury Department and includes officials from the Defense, State and Commerce departments. The panel, which can impose changes to deals to protect national security or recommend that the president block them, is reviewing Ant's deal for MoneyGram.
Schumer isn't the first lawmaker to raise concerns about the proposed sale to Ant, which is controlled by Chinese billionaire Jack Ma. Last spring, two House members said the acquisition would give China access to the financial infrastructure of the U.S. The takeover would potentially allow "malicious actors" to obtain data on U.S. military personnel and their families who use the service, the lawmakers said.
Ant has disputed assertions that U.S. security would be compromised by the deal, citing its plans to keep MoneyGram's headquarters, management team and employees in Dallas. The company said MoneyGram's servers -- and the data stored on them -- would also remain in the U.S.
"We are not commenting on the CFIUS process," Ant Financial said in a written statement, "but we are continuing to work with the various regulatory agencies and remain focused on closing the transaction by the end of the year."
MoneyGram didn't immediately respond to a request for comment.
— With assistance by Selina Wang
Before it's here, it's on the Bloomberg Terminal.
LEARN MORE