Menendez Arranged a Rare Meeting With Obama's Health Secretary, Jury Is Told
By and
Ex-HHS secretary recalls senator's request on Medicare policy

Melgen faced $8.9 million overbilling charge by government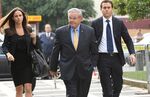 Senator Robert Menendez took the rare step of arranging a meeting with an Obama cabinet secretary to criticize a Medicare policy at the heart of a billing dispute between his close friend and the U.S. government, jurors at the lawmaker's bribery trial were told.
Kathleen Sebelius, the former Secretary of Health and Human Services, testified Tuesday that the meeting with Menendez was the only time in her five years of running the department when a billing dispute reached her level.
She told jurors she met with Menendez and Harry Reid, then the Senator Majority Leader, on Aug. 2, 2012, to discuss the policy that resulted in a ruling against Salomon Melgen. He had disputed that he owed the government $8.9 million. While Sebelius said she didn't recall Melgen's name coming up during the 30-minute meeting in Reid's Capitol office, she understood from talking to her staff earlier that the senator's purpose was to discuss a policy central to Melgen's case.
"I remember the focus of the discussion was the issue involving the case" of Melgen, Sebelius said. "I wasn't aware of any other issue we were discussing. It was about his particular case."
The senator is accused of misusing his office to do favors for Melgen, a wealthy Florida eye doctor and political donor, in exchange for hundreds of thousands of dollars in campaign contributions, as well as trips on private jets and stays at luxurious resorts. Prosecutors say Menendez took bribes to help Melgen with the Medicare dispute and to try to support him in a contract dispute with the Dominican Republic.
In Pictures: Senator Menendez Bribery Trial Images Shown Jurors
Melgen, who is on trial with Menendez, waged a battle with Medicare administrators to overturn their finding that he overcharged for Lucentis, a drug injected to treat macular degeneration. Sebelius told jurors that her position at the meeting was that the written policy set by the Centers for Medicare and Medicaid Services was clear and she saw no need to alter it. 
Defense attorneys have sought to portray Menendez as motivated not by a desire to do personal favors for Melgen but by a concern that Medicare's reimbursement policies were inconsistent and financially wasteful.
In the Lucentis dispute, the U.S. ruled that doctors could use only one dose per small vial. Melgen's lawyer had countered that he should be able to draw multiple doses from a vial. Each vial cost providers more than $2,000 and was the most expensive medication covered by Part B of the Medicare program. 
Sebelius testified that Menendez had called her at some point before the meeting, and she declined to speak with him because Melgen's appeal was pending before her agency.
"I was advised by my staff that there was a billing issue pending, and they recommended strongly that I let someone else in the department return the call," she said.
On cross-examination by Menendez's attorney Abbe Lowell, Sebelius said that the senator never asked her to take any action to help Melgen.
Mintz and Heim on Menendez's Bribery Case (Audio)
In earlier testimony Tuesday, Marilyn Tavenner, then the acting administrator of CMS, said she had discussed the matter with Menendez in June 2012. After he was rebuffed, Menendez indicated he'd go over her head, which Tavenner believed to mean that the senator would raise it with Sebelius.
Tavenner testified she was unaware of any other physician who billed the same way as Melgen, indicating the policy Menendez was asking her to review was of unique interest to the doctor. After the meeting, she said, she reviewed the policy and informed Menendez by phone that she didn't believe a change was warranted.
Menendez "said he did not agree with my conclusions and he was not going to stop there," Tavenner said.
Field Queries
Tavenner's testimony echoed an account earlier on Tuesday by Jonathan Blum, a top agency administrator who told jurors about efforts by subordinates to field queries from Menendez starting in 2009.
"We have a bit of a situation with Senator Menendez, who's advocating on behalf of a physician friend in Florida," an administrator emailed colleagues. "The doctor's name is Melgen in West Palm Beach."
The case is U.S. v. Menendez, 15-cr-155, U.S. District Court, District of New Jersey (Newark).
Before it's here, it's on the Bloomberg Terminal.
LEARN MORE