Davis Says the U.K. Is Making Contingency Plans for a No-Deal Brexit
By and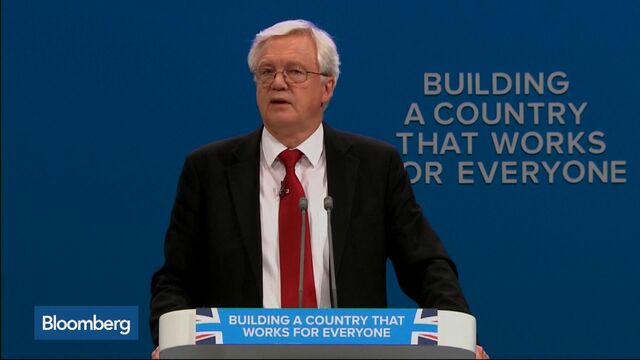 Brexit Secretary David Davis said the government is stepping up efforts to make sure the U.K. is prepared for a no-deal Brexit if there isn't a breakthrough in talks.
"There is a determined exercise under way in Whitehall devoted to contingency arrangements so that we are ready for any outcome," Davis said at the Conservative Party conference in Manchester, England. "Not because it is what we seek but because it needs to be done."
The European Union's refusal to move talks on to trade, citing Britain's refusal to recognize what it owes, is increasing the risk of Britain crashing out of the bloc with no deal, according to senior British officials. While the EU is pressing Davis for more clarity, the U.K. feels growing frustration that the bloc hasn't specified exactly what it needs to move on.
Davis said while he hoped to reach a deal soon on the rights of European citizens living in each other's jurisdictions, he would continue to challenge Brussels negotiators on the divorce bill. He will go "line by line" through the EU's claims, he said.
Leaving the EU without a deal would be catastrophic for business, throwing into legal limbo industries from financial markets to air travel and pharmaceuticals. Trading terms would revert after decades to World Trade Organization tariffs, and trucks would pile up at ports as customs checks on European goods would be required.
Hardening Positions
Speaking on condition of anonymity because the discussions were private, senior officials said they fear time could run out for the U.K. to reach the "heads of agreement" on a future trade deal. Britain is due to leave the bloc, with or without a deal, in March 2019. 
"If they are not willing to talk further, then we have nothing more to say," said Tory member of Parliament Jacob Rees-Mogg, in an interview with Bloomberg TV. "For them to say stubbornly that they will not discuss these matters is against their own law."
While Prime Minister Theresa May's speech in Florence, Italy, on Sept. 22 created some goodwill in Europe and allowed for some progress in talks last week, the two sides are still far apart on the bill. On Tuesday, EU Chief Brexit Negotiator Michel Barnier and European Commission President Jean-Claude Juncker said Britain must give more details about what kind of divorce terms it's willing to accept before talks can begin on trade.
While the Florence speech was helpful, "speeches are not negotiation positions," Juncker said. The European Parliament, which has a veto on the final deal, also backed a resolution saying there has not been "sufficient progress" yet on the exit settlement.
Before it's here, it's on the Bloomberg Terminal.
LEARN MORE