Catalans Take to Streets to Push Forward Independence Claim
By
Regional president waits to trigger separation process

Unions protest police violence during Sunday's referendum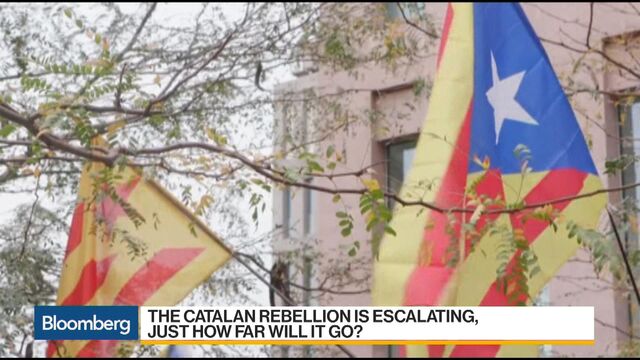 Separatist activists are taking to the streets of Barcelona on Tuesday to press home their demands for independence after winning an illegal referendum at the weekend.
Public transport and shops were closed as demonstrators gathered in the center of the Catalan capital to protest the police violence that marked Sunday's vote and reinforce their demands for a split with Spain. Photographs published on social media showed traffic backed up behind protesters on one of the main highways connecting Catalonia with the rest of Spain. Roads are blocked in 48 places in the region, the Spanish traffic agency said.

The campaign's political leaders are stalling on their next move as the European Union ignores their calls for mediation. Catalan President Carles Puigdemont vowed to notify the regional parliament that voters had opted for independence in Sunday's vote. That would trigger a process leading to a unilateral declaration of independence within 48 hours, but on Monday Puigdemont ducked the question of when he would set the clock ticking.
After a selloff on Monday, Spanish assets stabilized with the benchmark stock index trading in line with the rest of the euro area, government bonds a touch lower and the euro little changed against the dollar.
Two million Catalans backed independence out of 2.3 million votes cast, with just over 5 million people eligible to vote. Before the government crackdown began, separatist leaders said they would be comfortable declaring independence with about 1.8 million votes. The central government said the vote lacked the checks and guarantees required to ensure people didn't vote more than once.
Police Forced Out
United Nations High Commissioner for Human Rights Zeid Ra'ad Al Hussein said he was "very disturbed" by the reports of violence and urged the Spanish authorities to hold an independent investigation.
Respect for the rule of law is "a very valued asset," Deputy Prime Minister Soraya Saenz de Santamaria said in a televised statement. "What security can we give to the rest if we are prepared to allow any of our cities or regions to become places where the law is not enforced?"
The vote damaged Rajoy's authority -- he'd vowed to prevent it happening -- and left him scrabbling to forge a united front among national political parties to confront the separatist push. One potential ally, the liberal party Ciudadanos, demanded Rajoy suspend Catalan self-government at once to head off a potential declaration of independence, while the Socialists, the biggest opposition party, urged him to open talks with Puigdemont.
Read more: How Catalonia's Bloody Breakaway Bid Divides Spain: QuickTake
As least 500 Spanish police officers have been forced out of hotels in the region under pressure from the separatists, according to a spokesman for the police union. The pro-independence mayor of Calella, a beach resort east of Barcelona, called the manager of a hotel in the town threatening retribution unless he forced a police delegation to leave, the spokesman said.
A member of socialist leadership in Catalonia, who is in regular contact with the group's national leadership, said the party withheld support for taking direct control of Catalonia after seeing how Rajoy bungled his attempts to block the illegal vote. A full intervention would be even more difficult to execute without sparking unrest on the streets, he said.
Symbolic Date
Puigdemont's time frame could see him announce the formation of a Catalan republic on Oct. 6 -- exactly 83 years since his predecessor as regional president, Lluis Companys, also tried to declare independence. Companys was executed by the dictator Francisco Franco.
Some separatist groups and minor trade unions are calling for a general strike across Catalonia, Spain's biggest regional economy, though the larger unions are pushing for narrower demonstrations. The two largest unions, Comisiones Obreras and the UGT, are backing rallies to protest the police crackdown.
"What happened must receive a forceful answer from the Catalan society, who must demand that it isn't going to happen again in our country," Javier Pacheco, the head of Comisiones Obreras in Catalunya, said Monday in a joint press conference with his UGT counterpart.
The Catalan government has eased requirements for workers to maintain a minimum level of public services such as transport in order to encourage participation in the strike, newspaper El Pais reported. A spokesman for Volkswagen AG's Seat unit said its factory in Martorell near Barcelona is operating normally.
— With assistance by Esteban Duarte, and Todd White
Before it's here, it's on the Bloomberg Terminal.
LEARN MORE