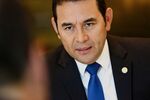 Guatemalan President Jimmy Morales, a comic who won office in 2015 on an anti-corruption platform, is entangled in a political crisis that threatens his presidency. The saga in Central America's largest economy began in August when prosecutors announced they'd launched a preliminary investigation into Morales for accepting illegal campaign contributions. Morales attempted to expel a chief investigator in the case and now faces additional accusations of wrongdoing. He's so far defeated bids in Congress to strip his immunity from prosecution, but anti-government protests have grown and his support in the legislature has dwindled.
1. Who is Morales?
The presidency is his first elected position. Before that, Morales was a TV comedian and owner of a television production company. He rode a wave of voter disgust with corruption to win office in 2015 on the slogan "neither corrupt nor a thief." The previous president, vice-president and central bank chief were all jailed on corruption allegations in the year leading up to Morales's election and are awaiting trial.
2. What led to the crisis?
Colombian national Ivan Velasquez, head of the International Commission Against Impunity in Guatemala, a UN-backed anti-corruption body installed in 2007, and Attorney General Thelma Aldana in August launched a bid to strip Morales of immunity from prosecution. This would allow them to deepen their investigation into claims by election officials that he received at least $825,000 in illegal campaign contributions in 2015. Two days later Morales attempted to expel Velasquez from the country but was blocked by Guatemala's Constitutional Court.
3. How could Morales lose immunity?
Lifting Morales's immunity requires 105 votes in the 158-member Congress. Morales could then be arrested and tried by the courts. If 105 legislators were to vote against the motion to strip his immunity, the case would be archived and Morales would avoid prosecution for that case. Last week, 70 lawmakers voted in favor of stripping his immunity, up from 25 the week before. Lawmakers may continue presenting motions on his immunity until 105 votes is reached for either result. If arrested, Morales must resign as president. Morales's days are "probably numbered" as popular pressure causes Congress to keep voting on the issue until he is ousted, Eurasia Group analyst Risa-Grais Targow wrote in a note.
4. What other cases does Morales face?
Prosecutors said they would consider making a new effort to strip Morales's immunity after a witness in a separate case said in court testimony that Morales received campaign donations from a former bank president under arrest for money laundering. Prosecutors didn't say whether these contributions were part of the alleged $825,000 in illegal donations. Prosecutors have also said they are investigating roughly $62,000 in "responsibility bonuses" that Morales received from the military this year. The Comptroller's Office ordered Morales to return the money, which he did.
5. What do protesters want?
Popular protests of the kind that helped force President Otto Perez Molina to resign in 2015 grew after Congress passed a law Sept. 13 that made campaign financing rules less arduous and softened sanctions for violating them. The law could have benefited Morales because in Guatemala, new laws may apply retroactively if they benefit a defendant. So its passage sparked a backlash, with protesters calling for Morales and the 107 members of Congress who backed the law to resign. Some restaurants say they won't serve any of the lawmakers responsible. Congress repealed the law just two days after passing it. Still, an estimated 205,000 people marched against Morales and Congress Sept. 20.
6. What happens if Morales is forced out?
Vice-president and former university rector Jafeth Cabrera would be sworn in as president. Cabrera must then present a list of vice-presidential candidates to Congress, which would vote to select someone from the list.
7. How have investors reacted?
Yields on Guatemala's bonds coming due in 2022 have risen 9 basis points since August 25, when prosecutors filed initial charges against Morales. The government's narrow fiscal deficit and low debt-to-GDP levels have helped reassure debt holders, though interim Central Bank Chief Sergio Recinos said the crisis could hurt economic growth if it persists. Finance Minister Julio Hector Estrada presented his resignation last week along with the labor and security ministers, citing the political crisis. Morales must accept the resignations before the ministers can step down.
The Reference Shelf
#JusticiaYa hashtag on Twitter is run by the anti-government protest movement. Here they post news on the president's case and other corruption cases.
Leaked audios suggest that the finance minister may have backed the idea of softening sanctions for violating campaign financing rules.
Corruption tracker Transparency International reports on Guatemala.
Before it's here, it's on the Bloomberg Terminal.
LEARN MORE