Puerto Rico's Very American Love of Cars Is Jamming Its Recovery
By , , and
The commonweath has one of the world's highest auto-use rates

Public-transit system was underused, unloved before hurricane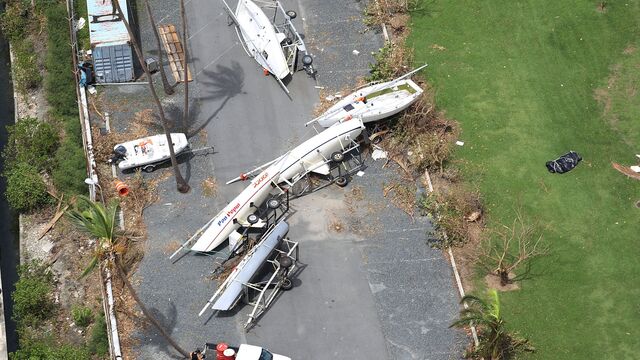 Only five months ago, Puerto Rico claimed the Guinness world record for the longest parade of classic cars: 2,491. Now, in the wake of Hurricane Maria, the island's celebrated car culture has complicated the struggle to restore people's lives and the commonwealth's economy.
Drivers desperate for gasoline are waiting hours in lines that stretch half a mile or more. One in San Juan on Friday ran from Sixto Escobar Stadium, down the length of the Escambron beach, around a bluff overlooking the ocean, and past El Hamburguer and a KFC before arriving at a Shell station.

It was vivid evidence that Puerto Rico has one of the highest rates of car ownership in the world, thanks to urban sprawl and the government's failure to build public transportation that commuters might actually use.
"It's ridiculous that there are so many cars on this little island," said Lisa Rivera, 54, who works for a company that runs Jenny Craig weight-loss programs. She spoke from her SUV as she sat in another line for gas.
Hunting Gas
Governor Ricardo Rossello has tried to tamp down panic by giving a running tally of how many of the island's 1,100 gas stations have reopened. At a news conference Monday morning, he put the number at 759 and said the average wait had dropped from six or seven hours a few days ago to under an hour. "We have been able to reduce gas lines," he said.
Many drivers, though, are still struggling to fill their tanks. Everyone whose job wasn't blown away by Maria is anxious to get to work and get paid so they can rebuild their lives.
Julio Diaz, 70, said he had driven with his wife from Toa Baja -- using precious gas to make the 18-mile (30 km) trip -- because the lines were even longer there. In the car behind him, his daughter Zoe Diaz, who uses a wheelchair, was equally desperate. "I have to get around however I can," she said.
The Diazes and other drivers started lining up early Friday morning. Finally, about 9:45 a.m., fuel trucks arrived to fill the station's tanks.
No Alternatives
Puerto Ricans are isolated without cars. Lacking in idespread public transportation, residents have turned to their own vehicles, said Hani Mahmassani, director of the Transportation Center at Northwestern University. 
"This is very much an auto and highway-dependent island," Mahmassani said. About 931,000 Puerto Ricans drive or carpool to work out of 3.4 million total residents, according to U.S. Census data. "There's just no public alternative that's really available."

The island's love of the car stems from urban sprawl that began in the 1940s -- and an equally long history of a public transportation system that was almost impossible to use, said Edwin Melendez, director of the Center for Puerto Rican Studies at Hunter College at the City University of New York.
For decades, the only public transit came from buses. "To say that they were unreliable is actually treating them too generously," said Melendez, an urban planning professor who lived on the island until he was 26. They were used by students who couldn't drive, by the old, by the poor and no one else, he said.
Train Flop
Puerto Rico's attempt to change that was the Tren Urbano, a 10.7-mile rail system that opened in 2004 and was intended to ease traffic between San Juan and nearby cities. It was a flop, in part because it didn't go places people wanted to go.
"The idea was that you would build it and they would come," Melendez said. "It was going to be this little island of urbanism, on the routes where they built this horrendous monster. It didn't happen. All of the predictions were wrong."
That helps explain why the island has the fifth-highest number of vehicles per capita in the world, after New Zealand, Brunei, Iceland and Monaco, according to data from the World Bank. Another measure: Puerto Rico has about 2.01 million cars, or roughly 57 vehicles per lane-mile of highway, compared with about 38 on the U.S. mainland, in part because the island has fewer miles of highway, period, Mahmassani said.
Melendez said the island's reliance on cars isn't the only reason people are standing in line. He said his family is using gasoline to fuel a generator for an elderly relative who needs to keep cool. "They are using it for a lot of things," he said.
Arriving Sweaty
Getting gas for any purpose remains a challenge as debris blocks roads, hampering deliveries.
Data on gas prices and availability has been hard to get since the hurricane, with most stations offline and likely unable to fill tanks, said Dan McTeague, senior petroleum analyst at Gasbuddy.com.
"If you can't power your terminal, you can't dispense or move fuel," McTeague said.
Before Hurricane Maria, tens of thousands converged on San Juan every day from neighboring municipalities to work. In coming days and weeks, the unloved bus system may be one of their few options, though it could add hours to commutes.
Eight routes started Friday, and that number was expected to increase Monday. Tren Urbano is "a different story," because the island first has to re-establish electricity, and authorities don't yet know when that will happen, said Carlos Contreras Aponte, executive director of the roads and transportation authority.
Some residents said they'll skip even the limited public transport that's available. Rivera, one of those waiting for gas in San Juan, said there simply isn't a route that makes sense for her. She'd end up walking 45 minutes and arrive sweaty at work. For that, she blamed politicians and their broken promises.
"It's a combination of poor planning and politics," she said. "Everything is politics."
— With assistance by Jordyn Holman
Before it's here, it's on the Bloomberg Terminal.
LEARN MORE