Louisville's Endowment Gain Clouded by $38 Million Write-Off
By
University foundation posted 12.6% gain in fiscal 2017

State attorney general investigating endowment irregularities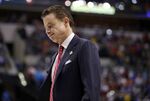 The University of Louisville's endowment generated a 12.6 percent investment return in the last fiscal year, though the performance at the scandal-plagued school was overshadowed by a $38 million write-off after an audit raised questions about how some assets were valued.
Pledges to the University of Louisville Foundation plunged last year and school President James Ramsey, who also controlled the endowment, was forced out amid revelations of excessive spending. Endowment assets grew less than 1 percent to $719 million for the year ended June 30.
Louisville's return is on par with the average 12.7 percent gain for more than 400 endowments and foundations, according to early data by Cambridge Associates. Cambridge is the investment adviser to the Louisville endowment.
State authorities are investigating irregularities at the endowment, including how it was used to boost Ramsey's compensation and that of other top administrators. Louisville found itself embroiled in another crisis last week, putting men's basketball coach Rick Pitino on unpaid administrative leave after the school was implicated in a federal corruption investigation.
See also: NCAA scandal spreads with Miami investigation, Pitino leave
Last week, the foundation announced a series of operational changes aimed at improving controls and transparency. The university president will no longer be allowed to be president of the foundation, said Keith Sherman, the interim executive director of the nonprofit. It will refrain from investing in startups or supporting university salaries, and a better system will be put in place to ensure compliance with the intent of donors, he said.
"It's a new foundation," Sherman, who was hired in November, said Friday in a phone interview. "The overall governance has been recreated."
An audit released in June questioned the values assigned to loans and investments made through the foundation. They included non-performing real estate loans made by subsidiaries for developments around campus as well as stakes in local biotechnology companies, some of which are now defunct.
The report also documented $22 million of deferred compensation for nine university employees led by Ramsey, who was hired in 2002. His pay, which reached $3.3 million in 2012, was assailed by state officials and some trustees, leading to his departure last year. The compensation practices are part of the focus of a criminal investigation by the state's attorney general, a university spokesman said in an email.
Stephen Pence, a lawyer for Ramsey, said there was nothing in the auditor's report indicating unauthorized payments or missing money. Everything that happened at the foundation while Ramsey was president had been approved by the board and reviewed by auditors and lawyers, said Pence, a former Kentucky lieutenant governor who's also representing Pitino.
See also: Auditor says Louisville endowment had 'dysfunctional' practices
The foundation was forced to liquidate about $42 million of investments to support a spending rate that reached as high as 13 percent of the fund. The spending rate this year is 5.5 percent, forcing the university, which counts on transfers from the fund, to make budget cuts to close a deficit, Sherman said.
The university appointed Greg Postel from the medical school as interim president in January while it searches for a permanent replacement. The foundation's chief financial officer and other staff have left, and most of its board members were replaced. Kentucky Governor Matt Bevin replaced the university's board of trustees.
"We were disappointed in what the audit found but glad they went through this process," said Mason Rummel, president of the James Graham Brown Foundation, which suspended most grants to Louisville last year but made a contribution to help fund the forensic report. "We have a lot of confidence in this new leadership."
Quotes from this Article
Before it's here, it's on the Bloomberg Terminal.
LEARN MORE