Ivory Coast Cocoa Farmers See Bumper Crop After Slow Start
By
Top grower produced a record cocoa harvest in 2016-17 season

Main crop farmer price set at 700 CFA francs a kilogram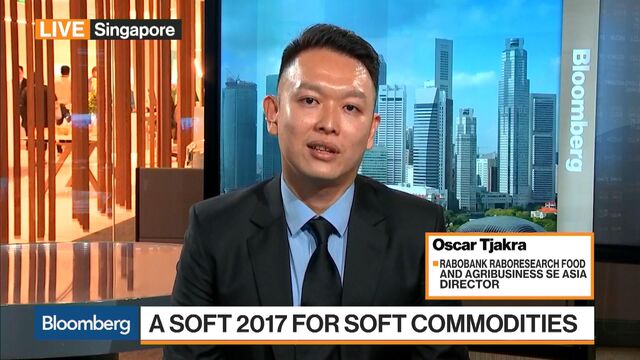 This year's cocoa harvest in top producer Ivory Coast may be starting slowly, but farmers say volumes will catch up in a few months and are forecasting another big crop to follow last season's record.
Heavy rains in June and July caused flowers to fall off trees and while farmers have started reaping some pods, there are a lot fewer than this time last year, said Salam Pelega, the head of a cooperative in the Soubre region, one of the biggest cocoa-growing areas. However, the weather now is a "perfect" mix of rain and sun, he said. The main crop, the larger of two annual harvests, runs from October to March.
Read more: African Cocoa Crops Seen Driving a Second Straight World Surplus
"Flowers and small pods are developing well," Pelega said. "It means there will be a lot of cocoa later in the main crop, probably in January."
Big harvests in Ivory Coast and Ghana, the No. 2 producer, helped push the cocoa market into a surplus in the 2016-17 season that ended last month, leading to lower global prices. Ivory Coast said Sunday it will keep the guaranteed farmer price for the main crop unchanged from the 700 CFA francs ($1.23) per kilogram for the smaller mid-crop, about a third lower than a year ago.
Ghana has kept prices unchanged since October 2016 and has ruled out a cut for the new season, which has fueled expectations for a surge in smuggling from Ivory Coast. President Nana Akufo-Addo reiterated at a ceremony on Monday that the country won't reduce producer prices.

Narcisse Konan, who manages a cooperative in the southwestern Ivorian town of Meagui, said he expects to produce more cocoa this year. It's raining regularly, the trees look good, and all indications are that the main crop harvest will last longer than the previous one, he said.
The lower main crop price "should not have an immediate impact on production," Eric Bergman, a commodities broker at Jenkins Sugar Group Inc., said Monday.
Ivory Coast produced a record cocoa harvest in the season that just ended, with purchases exceeding 2 million metric tons for the first time. Output may total 1.88 million tons this year, according to the median estimate in a Bloomberg survey of traders, analysts, brokers and grinders.
Lower pay usually has some effect on how farmers harvest, said Edward George, the London-based head of research at Ecobank Transnational Inc.
"When the price is unusually high, farmers will do everything in their power to harvest every single bit," he said in a phone interview last month. "If the price is low you'd say, 'OK, I'm going to do this much cocoa, these many pods,' and when you reach that you say 'I'm going to forget about the other trees and now focus on palm oil or maize or coffee."'

In eastern Ivory Coast, the rains fell late in the season, which should help production at the end of the main crop in January and February, said Olivier Abeyao, a farmer in Abengourou. There are lots of pods on the trees but few of them are ripe, he said. Continued low prices will mean an increase in smuggling into nearby Ghana, according to Abeyao.
In Ghana, farmers also expect a slow start to the season. It's rained heavily in the past two weeks and signs of black-pod disease are emerging, said Samuel Quainoo, who leads a group of 17,000 farmers near the southwestern town of Enchi.
"There is very little we can do other than to wait for the Cocoa Board to come and spray the farms," he said. "Farmers don't have money."
Read more: Cocoa Smugglers Make for Bitter Harvest in World's No. 2 Grower
In other West African producers:
Cameroon

It's raining regularly, almost every day, said Nguile Emmanuel, a cocoa farmer in Ngoro, near Bafia, one of the main production areas.
Rain prevented farmers from clearing plantations and fertilizing trees, but benefited those who had already applied fertilizers, he said.

Nigeria

Cocoa trees are covered with maturing pods and the main crop harvest is about to begin, said Atangba Bonjor, a farmer near Ikom, in the southeast.
There's a good mix of rain and sun and the soil is moist, which will support the development of new buds, he said.
The main crop harvest started two weeks ago in Idanre in the southwest, said Rotimi Olaniyan, a cocoa farmer in the region.
— With assistance by Ekow Dontoh, Pius Lukong, Tolani Awere, and Manisha Jha
Before it's here, it's on the Bloomberg Terminal.
LEARN MORE