Politics
How Far Can the Catalan Rebellion Go?
The clash between Madrid and Barcelona is escalating. Here's a look at what comes next.
By , , and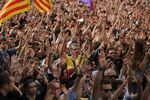 Catalonia's secessionist movement is the biggest threat to the constitutional order in Spain since democracy was introduced in the late 1970s. Sunday's unofficial vote to break away, setting the 7.5 million Catalans on course for a unilateral declaration of independence, flouted the authority of Spain's courts, national leaders, police and military. It called into question the legal framework of the country's $1 trillion economy.
What's the separatist plan?
The Catalan government has claimed a mandate for independence. What's more, the 2 million votes or so it claims to have counted in support of a split exceeded its expectations and would have been enough for a comfortable majority in an ordinary, legal ballot of the region's electorate. Regional President Carles Puigdemont has pledged to take that result to parliament within the next few days so the assembly can take the process forward.
How would this play out?
The Catalan referendum law, suspended by Spain's highest court, stipulates nevertheless that the regional parliament should declare independence within two days of being legally notified of a "yes" vote. Pro-independence groups called for a general strike beginning Oct. 3.
Puigdemont leads a wide coalition of political parties that includes both corporate executives and self-styled anarchists. So far, he's managed to keep their differences in check. But the strains could start to show as the stakes rise.
Spain won't just let that happen, right?
You wouldn't have thought so. But then you wouldn't have thought it would have gotten to this point either.
Prime Minister Mariano Rajoy has one major card to play: suspending Catalan autonomy under Article 155 of the 1978 Constitution. That allows the central government to force a region to obey laws when disobedience "gravely threatens the general interest of Spain." Hardliners within his party have been urging him to do that for weeks, but the premier has held off, wary of provoking a popular backlash. There's debate in the Spanish media now as to whether Rajoy will invoke that power preemptively, or wait for the Catalans to follow through on the referendum result.
The article has never been used and no one has a clear idea of what its consequences would be.

But what do we know?
Rajoy would need someone reliable to enforce the ruling. With the loyalty of the Catalan police force in doubt, that probably means the estimated 10,000 national police and Civil Guard officers who've been sent to Catalonia as reinforcements.
They have the numbers to remove Puigdemont, but it would trigger a rejection in the streets. More than 800 people were injured when those officers tried to shut down Sunday's vote, so there's a clear risk that the situation could spin out of control.
The Catalan police force adds another element of uncertainty. Sunday also saw a minor scuffle between Spanish and Catalan police, one Catalan officer was arrested for attacking a national police vehicle and tensions between the different forces are running high. If Spain took control of Catalonia, Rajoy would probably need support from the Catalan police to impose and maintain order.
If the Catalans do declare independence, whose law applies?
Spain is on the precipice of a legal no man's land. The central government and its police will enforce Spanish law, to the extent possible, while the Catalan rebels may say that no longer applies. The Catalan Parliament's "transitional" law of Sept. 8 proclaims sovereignty, without guaranteeing it will fulfill obligations it has to the rest of the nation, such as contributing toward paying its portion of the national debt. This legislation was suspended days afterward by Spain's Constitutional Court and has no effect under Spanish law. It also calls for secession to be negotiated -- with Spanish, European and international institutions.
Spain's debt repayments aren't at risk are they?
Not at this stage. About 80 percent of the money Catalonia spends on salaries and public services is from tax revenue collected by the central government in Madrid. Madrid has already seized control of payments for Catalan civil servants' wages and public services instead of channeling the cash through the regional government in Barcelona. Any individual or company who stops paying taxes to Madrid will be directly pursued by the State like any other debtor, and tax officials can put a lien on bank accounts. In practice, that's one of the biggest barriers to stop a Catalan declaration from leading to true independence.

Is there no one else who can step in here?
At another moment, the king might have publicly urged political leaders to de-escalate the situation. But King Felipe VI doesn't have the same authority as his father Juan Carlos, who steered Spain to democracy and faced down a coup in 1981.
Felipe is still finding his feet after taking the throne in 2014 and Rajoy already snubbed him once as the king sought to broker a political settlement after the inconclusive election of 2015. When Felipe led a peace march in Barcelona after August's terrorist attacks, he was jeered by separatists. Palace officials are hyper-sensitive about anything that might put the monarchy's status in jeopardy.
So Rajoy has to sort this out?
Pretty much. In a televised speech on Sunday night, Rajoy called for national politicians to pull together and he's meeting the leaders of two other major parties to try to forge a united front. Further down the track he, or someone, needs to open up a broader discussion on a new constitutional settlement that will require concessions from both sides. But it's difficult to see how we get there from this point.
Before it's here, it's on the Bloomberg Terminal.
LEARN MORE