Brexit Threatens U.K.'s Nuclear Renaissance Dream, Tories Told
By
Rolls-Royce says government may annnounce nuclear winners soon

Tight migration policies after Brexit may hold back industry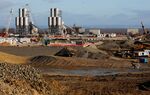 Britain's plan to spend billions of pounds on a fleet of new nuclear reactors could be stopped in their tracks if Prime Minister Theresa May ends the rights of skilled European migrants to work in the nation after it leaves the European Union.
That's the warning delivered on Monday by Rolls-Royce Holdings Plc and other nuclear energy experts to Conservative Party members at their annual conference in Manchester, northwest England. The company also outlined plans to invest in new modular atomic power plants.
In the coming month, ministers are due to announce the results of a 250 million-pound ($213 million) competition for funding to research and develop small modular nuclear plants, said David Orr, Senior Vice President of Nuclear at the British manufacturing icon. Rolls-Royce is bidding to participate, he said.
"There is a clear space for small modular reactors in the energy mix going forward, and our belief is that we can also do these economically," he said. The company estimates its planned 220 megawatt to 440 megawatt power station would require 1.6 billion to 2 billion pounds of spending and could be running by 2028.
By developing one of the first modular reactors, the U.K. could be at the leading edge of a new market that has a potential global market value of 250 billion to 400 billion pounds, according to the National Nuclear Laboratory.
But the future of both the modular and traditional reactors like the ones being built by Electricite de France SA at Hinkley Point in western England is at risk from the U.K. exiting the EU, he said. That's because the industry relies on engineers from overseas and because there is still a question mark over whether and how the U.K. could leave Euratom, the European Atomic Energy Community regulator that oversees the industry.
Read More About Why Brexit's Going Nuclear Over Treaty Withdrawal
About a quarter of people who work in scientific industries like nuclear power come from outside the U.K. and about half of those are from the EU, Sarah Main, director of the Campaign for Science and Engineering, said at the conference.
"We really do need to consider quite carefully what we need to put in place to repatriate a regulatory framework that will allow us to innovate ahead of the curve rather than simply follow on from the rest of the world," she said.
The nuclear industry in the U.K. is "very international" and exiting the EU could "unreasonably damage" investment, said Tom Greatrex, chief executive officer of the Nuclear Industry Association.
Rolls-Royce nuclear graduates typically stay in the company for a decade before reaching management, said Orr. That means industry needs a long-term signal from government to invest in new talent. "These are not short-term things," he said.
Before it's here, it's on the Bloomberg Terminal.
LEARN MORE