Boris Johnson Falls Into Line on Brexit After Tory Rebukes
By
Top diplomat backs down after lawmakers tell him to 'shut up'

He had posed a second challenge to May over her Brexit policy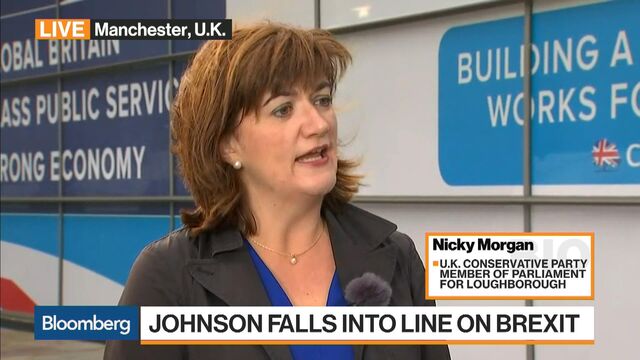 U.K. Foreign Secretary Boris Johnson insisted he was behind "every syllable" of Prime Minister Theresa May's Brexit plan, falling into line after a succession of challenges to her authority.
After an onslaught of criticism from Conservatives at the party's annual conference, the perennial leadership contender said he fully supported the contents of May's Brexit speech in Florence.

Days before, he had set out his own "red lines," prompting questions of whether May should fire him for defiance.
"Contrary to some of the stuff that I notice has been knocking around in the media, you have a Cabinet that is totally united behind every comma, every full stop, every syllable of the Prime Minister's excellent Florence speech," Johnson told BBC Newsnight on Monday.
His insubordination in recent weeks had thrown into question May's ability to unite her party behind a common Brexit stance. Her position was made more precarious after she made some key concessions to the European Union last month in an effort to move Brexit talks along.
Lawmakers Cross
"The mood here very much has been amongst MPs and party members that they're pretty unimpressed with those ministers who want to set down their own red lines on Brexit," House of Commons Treasury Committee Chairwoman Nicky Morgan told Bloomberg Television on Tuesday. Morgan expects May to remain leader through March 2019 as there's no appetite in the party for a leadership contest any sooner, she said.
On Monday, lawmakers had made veiled -- and not so veiled -- references to his bad behavior. John Howell, who represents Johnson's old constituency, said the minister should "keep his bloody mouth shut."
Ministers had called on May to fire Johnson for his rebellion, The Times of London reported, after May laughed off a question on Sunday about whether her foreign minister was "unsackable."
His comments will bring some relief to a weakened May, who lost her working majority in June's election. Johnson, a former mayor in the traditional Labour stronghold of London, was a lead campaigner in the Brexit referendum, and has long been seen as a potential leader.
He has sold a vision of Brexit where more money would be spent on public health and free trade deals would abound -- and said little about the compromises that might be needed.
But he has little power to bring about his campaign pledges in his role in the foreign office, with Brexit in the hands of May and Brexit Secretary David Davis. He supported a sharper break with the EU than the strategy pursued by May, who last month asked for a two-year transition deal after 2019, which would see the U.K. pay into the budget and abide by EU rules for two years.
— With assistance by Anna Edwards
Before it's here, it's on the Bloomberg Terminal.
LEARN MORE