Photographer: Luke Sharrett/Bloomberg
Bond Market Gets Double-Dose of Mystery With Storm-Impacted Jobs
By
Inflation missed again, now traders expect deflated payrolls

Weak jobs number more likely to be market-moving, SocGen says
First, bond traders had to deal with stubbornly low inflation, which Federal Reserve Chair Janet Yellen called a "mystery."
This week they'll have a second puzzle to solve: how to trade a jobs report that analysts predict will be weak due to the havoc wrought by Hurricanes Harvey and Irma.
U.S. employers probably added about 85,000 nonfarm workers in September, the smallest increase in six months, according to a Bloomberg survey. Ordinarily, that would be cause for alarm about the pace of economic growth. But with the storms' devastation so well-known, traders will probably look past the slowdown and focus on the tone of Fed speakers and any progress on the Trump administration's tax plan, said Timothy High at BNP Paribas.
"Any number good or bad is likely to be met with some skepticism," said Subadra Rajappa, head of U.S. rates strategy at Societe Generale.

So, how will the bond market react to Friday's payrolls report? If it meets or tops expectations, that just lines up with the three-week selloff in Treasuries, the longest slide since May. The risk is if it misses the already-depressed estimate, strategists say. That could spark a rally, especially after data last week showed the Fed's preferred inflation gauge is still hovering near the lowest level in a year.
"The risks are asymmetric, a weak number likely leads to a rally, while an at- or above-consensus print will be taken with a grain of salt," Rajappa said.
The 10-year Treasury yield ended the week at 2.33 percent, the highest closing level since July. The Bloomberg Barclays U.S. Treasury Total Return index suffered its biggest monthly decline since November as traders boosted wagers that the Fed is committed to a faster pace of rate hikes.
The odds that policy makers tighten again in December are about 65 percent, based on overnight index swaps and the effective fed funds rate. The probability climbed close to 70 percent last week.
That leads to another head-scratcher for bond traders: handicapping the next Fed chair. Two-year yields rose Friday on reports that President Donald Trump and Treasury Secretary Steven Mnuchin met with former Fed Governor Kevin Warsh about succeeding Yellen when her term expires. Warsh is the front-runner in the predictions markets and is seen as more hawkish on inflation. A decision is coming in two to three weeks, Trump told reporters on Friday.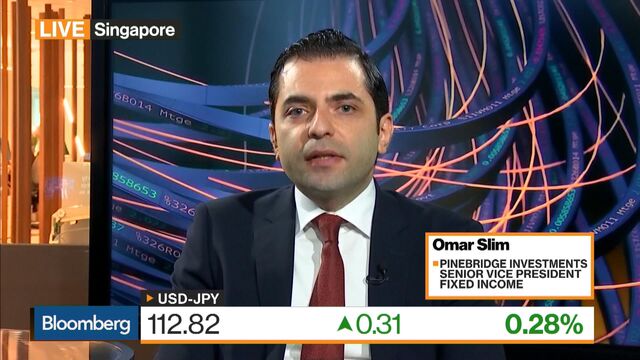 Granted, right now there isn't much to be hawkish about on inflation. The mystery only deepened on Friday, as the personal consumption expenditures price index came in at 1.4 percent in August, the sixth straight month below the Fed's target.
For traders, deciphering the employment picture may be easier.
What to Watch
Jobs data is the main focus, though other figures will also shine a light on the state of the economy

Oct. 2: Markit U.S. manufacturing PMI, construction spending, ISM manufacturing, new orders and prices paid
Oct. 4: ADP employment, MBA mortgage applications and Markit U.S. services and composite PMI
Oct. 5: Initial jobless claims, trade balance, factory orders, durable goods orders, capital goods orders and Bloomberg consumer comfort
Oct. 6: Change in nonfarm payrolls, unemployment rate, average hourly earnings, wholesale trade sales and inventories, consumer credit

It's another full slate of Fed speakers, with most coming toward the end of the week; all but Harker will give their first remarks since PCE data missed expectations

Oct. 2: Kaplan speaks
Oct. 4: Yellen gives remarks at community banking event
Oct. 5: Powell speaks on Treasury markets and the TMPG; Williams speaks at community banking conference; Harker and George speak at workforce conference
Oct. 6: Bostic and Kaplan speak at workforce conference; Dudley speaks on monetary policy; Bullard speaks on economy
NOTE: Dudley likely to be most noteworthy of all speeches after saying last month that that low inflation may be due to structural forces, suggesting economy could operate at high level without large rise in inflation

Auctions: four-week, three-month and six-month bills
Before it's here, it's on the Bloomberg Terminal.
LEARN MORE