Oil Cuts Add to Saudi Pain as GDP Contracts for Second Quarter
By and
Kingdom's GDP falls 1.03% after shrinking 0.5% in 1st quarter

Non-oil sector grows as government seeks to transform economy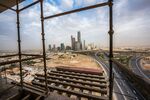 Saudi Arabia's economy contracted for two quarters in a row for the first time since the global financial crisis, as the kingdom grapples with low oil prices and its businesses struggle to cope with economic reforms.

The kingdom's gross domestic product shrank 1 percent in the second quarter from the same period a year earlier, when it expanded 0.9 percent, according to official data released on Saturday. The economy had contracted 0.5 percent in the first three months of 2017.
Crown Prince Mohammed Bin Salman is leading the push to transform the biggest Arab economy at a time when crude prices are at about half their 2014 peak. But as authorities seek to reduce the kingdom's reliance on oil, they're also leading efforts among OPEC members and some other major producers to bolster prices by cutting output. The kingdom's oil GDP shrank 1.8 percent in the second quarter, weighing on overall activity.
The data also showed how non-oil industries are still struggling with efforts to overhaul the economy and shore up public finances. The non-oil GDP, the main engine of job creation, expanded below 1 percent, driven mainly by the government sector, the data show.
"There is very little capital spending going on in Saudi Arabia at the moment," Mohamad Al Hajj, an equities strategist at the research arm of EFG-Hermes in Dubai, told Bloomberg TV in an interview.
The Saudi economy hasn't contracted for two quarters in a row since at least 2010, official data show. The kingdom doesn't publish quarterly seasonally-adjusted data, which is used by some economists to define a recession.
Read More: King Scales Back Austerity Plan That Set Saudis Grumbling
Figures released by the government's statistics agency also show:
Within non-oil GDP, private sector activity grew 0.4 percent after expanding 0.9 percent in the previous three months
The government sector expanded almost 1 percent
The construction industry shrank 1.6 percent after contracting 3 percent in the first quarter
Petroleum refining expanded 5.8 percent
The kingdom's Tadawul All Share Index retreated the most in the Middle East, falling 0.9 percent at 12:21 p.m. in Riyadh.
"What we're seeing is stagnation in non-oil activity," said Monica Malik, chief economist at Abu Dhabi Commercial Bank. "Second-quarter data show still very lackluster demand" even after the government reversed a decision to cut or freeze bonuses and allowances for state employees, she said.
A Bloomberg survey conducted before Saturday's release show economists expect growth to grind to a halt this year, compared with a growth forecast of 0.5 percent in the previous poll.
— With assistance by Tracy Alloway
Before it's here, it's on the Bloomberg Terminal.
LEARN MORE